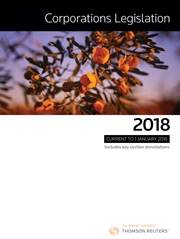 Corporations Legislation 2018 eBk and Bk
Book+eBook

$100.62* $111.79* RRP Save: $11.17 (10%)

Date: 22/02/2018

Code: 42156601

Lawbook Co., AUSTRALIA

Corporations Legislation 2018 eBk and Bk

Sale Price:

$100.62

Saving: $11.17
Description
Corporations Legislation 2018 contains the Corporations Act 2001, Australian Securities and Investments Commission Act 2001 and associated Acts and Regulations. The legislation has been fully consolidated, capturing the latest amendments up to 1 January 2018. Cross-references to related legislation (including Court Rules), ASIC Class Orders, ASIC Regulatory Guides, ASIC Forms and the Takeovers Panel Guidance Notes have been included to assist the reader in working with the legislation.
Designed for use by corporations practitioners, business professionals and anyone with an interest in corporations law, Corporations Legislation 2018 supplements the Corporations Act 2001 with key section annotations updated by Edmund Finnane, providing additional guidance on case law for selected provisions. In addition, Professor Baxt in the Annual Review highlights important Corporations law developments that occurred throughout 2017, providing insightful commentary on significant cases and legislative amendments.
Table of Contents
Corporations Act 2001
Corporations Regulations 2001 [except Sch 2 Forms]
Insolvency Practice Rules (Corporations) 2016
Australian Securities and Investments Commission Act 2001
Australian Securities and Investments Commission Regulations 2001
Corporations (Fees) Act 2001
Corporations (Fees) Regulations 2001
Cross-Border Insolvency Act 2008
Cross-Border Insolvency Regulations 2008
Acts Interpretation Act 1901 [as at 1 January 2005
*
eBooks and packages including an eBook may not be returned once the software key has been supplied. Your rights as a customer to access and use the ProView™ software and a ProView eBook are subject to acceptance of the ProView content licence agreement.
NB
An email with a registration key and instructions for accessing your eBook will be sent after checkout. For existing ProView users the eBook will appear in your library after checkout.

Forthcoming/pre-order eBooks will be available after the publication date.

The ProView app is not currently available on Kindle. See the latest system requirements