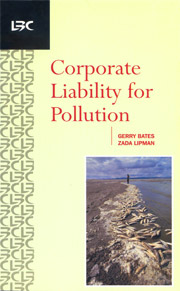 Corporate Liability for Pollution - PDF
PDF

Date: 01/05/1998

Code: 30141553

Thomson Reuters, AUSTRALIA

Corporate Liability for Pollution - PDF
Description
The environmental performance of corporations in Australia and overseas is under increasing scrutiny. Consistent with this trend, there have been significant changes in government and judicial attitudes towards corporate environmental wrongdoing and accountability, with a clear move towards making corporations subject to criminal liability. Corporate Liability for Pollution, which has been written by acknowledged environmental law specialists, Gerry Bates and Zada Lipman, deals with the legal obligation of corporations to avoid or minimise pollution. This important book is designed to provide you with a detailed explanation of the laws relating to pollution control across all jurisdictions in Australia.
This influential title was published in 1998, and is now available as a high quality PDF for you to download.
* By downloading this PDF file you agree to the following: 1. That the file is for your sole use and purpose; 2. You may print this file but only if it is for your personal use; 3. You will not share or make copies of the PDF file (in any format) and will not permit the file to be published or distributed in any other way which is contrary to personal use. You should note that this material is copyright protected and may only be used as noted above. Please contact us if you seek additional permission to reproduce this content or would like any further information.