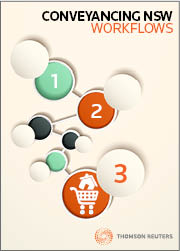 Conveyancing NSW Workflows
Online

Date: 15/04/2014

Code: 41651102

Thomson Reuters, AUSTRALIA

Enquiry Sent

A member of our support team will be in touch with you within 1 business day.

Sales Enquiry Form

Conveyancing NSW Workflows

For questions about how to use this product or to get help with your account please visit the Help Centre or Contact Support directly.
Description
Conveyancing NSW Workflows is a practice solution designed to help you more efficiently achieve outcomes for your clients by providing step-by-step guidance to completing a conveyancing transaction.
Conveyancing NSW Workflows consists of two schematics to map out the process when acting for the vendor of a residential property and acting for the purchaser of a residential property.
Each workflow provides tools to assist in completion and help to manage risk. These tools include checklists, decision trees and flowcharts that you can save into folders on the Westlaw platform as a record of work completed.
Other features include:
tips and alerts, to put you on notice about important but not necessarily obvious or large practical considerations that affect the conduct of your matter
links to forms and precedents in downloadable Word format so that documents can be completed as they arise during the course of the workflow. Additional precedents (such as the NSW Contract for Sale of Land) are also available (subject to subscription to Conveyancing Precedents- NSW Law Society)
links to text of specific legislative provisions and brief case references, as relevant
links to full text legislation and more detailed commentary to support further research in Conveyancing Manual NSW (Subject to subscription)
Depending on how familiar you are with the area of law, you may wish to use the workflow schematic every time or simply access the tools directly.
Resource Downloads
General Downloads
Instructor Supplements
Please note: these resources are ONLY for the use of lecturers who have prescribed the relevant text. Please email tlrap.academic@thomson.com to request access.
*
Price is for the workflow plus tools and precedent documents.