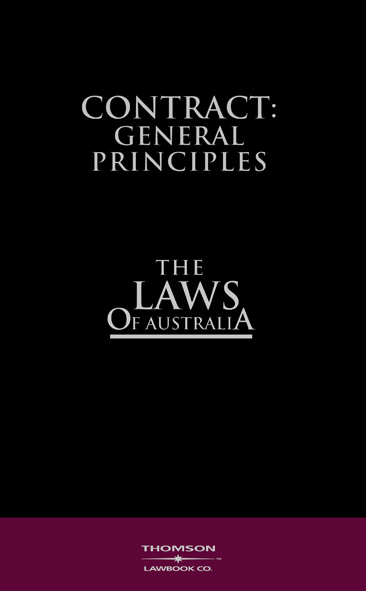 Contract: General Principles - The Laws of Australia 1st Edition (Hardcover)
Book

Date: 02/11/2006

Code: 9780455223810

Lawbook Co., AUSTRALIA

Contract: General Principles - The Laws of Australia 1st Edition (Hardcover)
Description
This book is a comprehensive work outlining the fundamental doctrines of Australian contract law. Available in hardcover and softcover, it includes practical and insightful commentary on topics such as formation, terms, performance, breach and remedies.

As the law of contract permeates every area of practice, Contract: General Principles - The Laws of Australia provides a useful reference for Australian practitioners of all levels and areas of expertise. The unique structure of this work identifies definitive statements of legal principle without compromising the depth of analysis.

Current to 31 August 2006, the latest authorities in contract law, including relevant legislation and significant High Court decisions, form part of the extensive references supporting this authoritative text.

The material included in this book is also published in Title 7 of The Laws of Australia legal encyclopaedia, under the editorial guidance of Professor JLR Davis, Australian National University.
Praise for this work: "Contract: General Principles is sure to become one of the standard references for lawyers, students and others interested in Australian Contract Law." (Vic Bar News, Summer 2006)