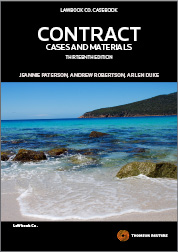 Contract: Cases and Materials 13th edition eBook
eBook - ProView

Date: 03/12/2015

Code: 9780455235998

Lawbook Co., AUSTRALIA

Contract: Cases and Materials 13th edition eBook
Description
Contract: Cases and Materials, 13th Edition, continues to be the leading casebook for students of contract law in Australia. Significant new cases extracted in Contract: Cases and Materials, 13th Edition include:
Sidhu v Van Dyke (2014) 251 CLR 505 (reliance and relief in equitable estoppel);
Australian Financial Services and Leasing Pty Ltd v Hills Industries Ltd [2014] HCA 14 (the change of position defence in the law of restitution);
Commonwealth Bank of Australia v Barker (2014) 253 CLR 169 (implied terms);
Clark v Macourt (2013) 253 CLR 1 (damages and mitigation);
Andrews v ANZ Banking Group Ltd (2012) 247 CLR 205 (the penalty doctrine);
Australian Competition and Consumer Commission v TPG Internet Pty Ltd (2013) 250 CLR 640 (intended audience when assessing whether conduct is misleading);
Forrest v Australian Securities and Investments Commission (2012) 247 CLR 486 (statements of opinion);
Kakavas v Crown Melbourne Ltd [2013] HCA 25 (unconscionable dealing); and
Equuscorp Pty Ltd v Haxton (2012) 246 CLR 498 (illegality and restitution).
Table of Contents
Part I Introduction
Chapter 1: The Nature Of Contract
Chapter 2: The Place Of Contract Within Private Law
Part II Formation
Chapter 3: Agreement
Chapter 4: Consideration
Chapter 5: Intention
Chapter 6: Certainty
Chapter 7: Formalities
Chapter 8: Capacity
Part III Detrimental Reliance And Unjust Enrichment
Chapter 9: Estoppel
Chapter 10: Restitution
Part IV Parties
Chapter 11: Privity
Part V Express Terms
Chapter 12: Identifying The Express Terms (including extrinsic evidence)
Chapter 13: Construing The Terms (including extrinsic evidence)
Part VI Gap Filling
Chapter 14: Implied Terms (including the duty of good faith)
Chapter 15: Frustration
Part VII Consumer Contracts under the Australian Consumer Law
Chapter 16: Consumer Guarantees
Chapter 17: Unfair Contract Terms
Part VIII Performance And Breach
Chapter 18: Performance And Breach
Part IX Termination
Chapter 19: Termination By Agreement
Chapter 20: Failure Of A Contingent Condition
Chapter 21: Termination For Breach
Chapter 22: Termination For Repudiation
Chapter 23: Termination For Delay
Chapter 24: Consequences Of Affirmation Or Termination
Chapter 25: Restrictions
Part X Remedies For Breach
Chapter 26: The Measure Of Damages
Chapter 27: Limitations On The Award Of Damages
Chapter 28: Liquidated Damages And Penalties
Chapter 29: Actions For Debt
Chapter 30: Specific Performance And Injunctions
Part XI Vitiating Factors
A Misinformation
Chapter 31: Mistake
Chapter 32: Misrepresentation
Chapter 33: Misleading And Deceptive Conduct
B Abuse Of Power
Chapter 34: Duress
Chapter 35: Undue Influence
Chapter 36: Unconscionable Dealing
Chapter 37: Impropriety By Third Parties
Chapter 38: Statutory Unconscionability And Unfair Terms
C Remedies
Chapter 39: Rescission
D Illegality
Chapter 40 Contracts Prohibited By Statute
Chapter 41 Contracts Prohibited At Common Law
Chapter 42 The Consequences Of Illegality
*
eBooks and packages including an eBook may not be returned once the software key has been supplied. Your rights as a customer to access and use the ProView™ software and a ProView eBook are subject to acceptance of the ProView content licence agreement.
NB
An email with a registration key and instructions for accessing your eBook will be sent after checkout. For existing ProView users the eBook will appear in your library after checkout.

Forthcoming/pre-order eBooks will be available after the publication date.

The ProView app is not currently available on Kindle. See the latest system requirements