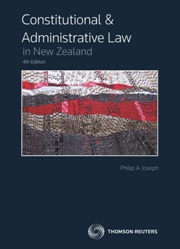 Constitutional & Administrative (4th ed)
Book

Date: 28/04/2014

Code: 9780864728432

Brookers, NEW ZEALAND

Constitutional & Administrative (4th ed)
Description
Constitutional and Administrative Law in New Zealand is the authoritative text on public law in New Zealand.
The new edition consolidates the high scholarly standards of the earlier editions in analysing New Zealand's public law arrangements. Now in its fourth edition, this treatise represents a thorough and comprehensive revision of all areas of public law. It explores the doctrinal foundations of public law and critiques modern legislative and judicial developments, integrating the most recent decisions of the courts as part of the in-depth analysis of public law principles. The new edition is critical of several case law developments and offers alternative perspectives for promoting New Zealand's public law processes.
The author, Philip A Joseph, is an acknowledged authority on New Zealand constitutional and administrative law.