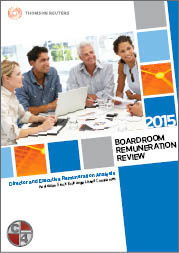 Connect 4 - Boardroom Remuneration 2015
PDF

Date: 01/04/2015

Code: 41750692

Thomson Reuters, AUSTRALIA

Connect 4 - Boardroom Remuneration 2015
Description
CONNECT 4 – BOARD ROOM REMUNERATION REVIEW
Better understand trends in remuneration over the last 12 months with this snapshot of the financial year.
Expert commentary sits alongside statistical analysis, explaining the current year and pointing to future trends, while the timing of the review provides a more representative sample of the true state of the market.
Who uses the Review
Ideal for anyone who needs to track and understand market trends in senior executive and board member remuneration, the Board Room Remuneration Review is also used by those involved in compensating Directors and Executives.
Designed for Boards of Listed Companies, HR Directors, Remuneration Consultants, Senior Remuneration Executives, CEOs and CFOs, and Remuneration Committees of Listed Companies, the Review is also of use to Academics and others performing research and analysis of remuneration trends.
How is the Review produced
Raw data is sourced from the Annual Reports of listed companies, collated, statistically analysed and commented upon by leading business law academic Winthrop Professor Raymond da Silva Rosa, Head of Accounting and Financial Discipline at the University of Western Australia's Business School.
What's included
Readily accessible, the Review includes graphs, tabular information and commentary.
Statistical analysis enables decision-makers to determine exactly where they wish to position their Director and Executive remuneration compared to all listed companies, companies of a similar market capitalisation, their industry sector or any number of other metrics available.
Commentary provides the necessary context for the data, discuses key themes, and points to the future. Some major themes that have been discussed in past Reviews include:
the link between executive remuneration and company performance
the effect of the GST on remuneration; and
the way in which government policy and regulation can affect components of a remuneration package.
Connect 4
Giving you access to information on companies listed on the Australian Stock Exchange, Connect 4's databases and analysis will help you understand the activities of publicly listed companies. You'll find the business intelligence and industry knowledge that you need to get deals over the line, provide better advice and services, and conduct successful litigation.
Connect 4 covers:
Company announcements
Expert reports
Takeovers
New issues
Boardroom
Listing rules waivers
Documents.
*
Price is for a one-off supply of a PDF. By downloading the PDF file you agree to the following: 1. That the file is for your sole use and purpose; 2. You may print this file but only if it is for your individual use; 3. You will not share or make copies of the PDF file (in any format) and will not permit the file to be published or distributed in any other way which is contrary to individual use. You should note that this material is copyright protected and may only be used as noted above. Please contact us if you seek additional permission to reproduce this content or would like any further information.