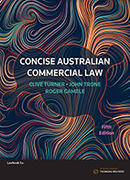 Concise Australian Commercial Law 5th ed
Book

Date: 14/01/2019

Code: 9780455241418

Lawbook Co., AUSTRALIA

Concise Australian Commercial Law 5th ed
Description
Concise Australian Commercial Law, now in its fifth edition, has two basic objectives: to provide students with a general understanding of the legal environment of business and to expose them to the language and perspectives of legal professionals, regulators and other commercial actors; and to provide a reference point for non-law students studying key commercial law topics – the law of contract, torts, consumer protection, agency, business organisations and business ethics – in a way that is clear, accessible and challenging for a non-law student. The authors have selected cases that should be of interest to non-law students and every effort has been made to ensure that the case extracts contain sufficient information to enable students to discuss and debate the decisions that a court has reached and appreciate how the principles could be applied in a commercial environment. Similarly the relevant legislation is discussed in a way that is designed to promote understanding of the law and the policy considerations behind the legislation.
The fifth edition been updated to incorporate the many legislative changes and case law developments since the last edition. These updates include:
a revised introduction (including a guide on how to approach the study of commercial law);
a number of new contract law cases and an expanded section on online contracting;
amendments to the Australian Consumer Law as well as a number of interesting new cases concerning consumer protection;
case law developments in relation to the standard of care and causation in negligence;
the recent 'safe harbour' amendments to the Corporations Act and a number of new cases dealing with directors' duties: and
revisions to the chapter on Business Ethics to include references to the Royal Commission into Misconduct in the Banking, Superannuation and Financial Services Industry (the Banking Royal Commission).
To ensure the text is a more complete teaching and learning package, there is a revised set of activities at the end of each chapter that have been written with the non-law student in mind and can readily be used in a student-centred group work environment.
LECTURERS ONLY
An extensive bank of resources are avaialble to lecturers who prescribe this text to assist in teaching, assessment, and stimulating student learning. Resources include:
Mentor - online learning tool. Multiple choice questions available for assessment purposes and/or self-directed student learning.
Powerpoint slides
Short answer/tutorial questions
Problem questions
Brief student Study Guide
Answers to sample multple-choice exam in Introduction to Studying Law Units
Table of Contents
PART 1: INTRODUCTION
Chapter 1: An Introduction to Law and the Australian Legal System
PART 2: LAW OF CONTRACT
Chapter 2: Introduction to the Law of Contract
Chapter 3: Offer and Acceptance
Chapter 4: Intention to Create Legal Relations
Chapter 5: Consideration, Promissory Estoppel and Formalities
Chapter 6: Contractual Capacity
Chapter 7: Genuine Consent
Chapter 8: Legality of Object
Chapter 9: Contents and Interpretation of the Contract
Chapter 10: Operation of the Contract
Chapter 11: Termination and Breach of a Contract
Chapter 12: Remedies
PART 3: CONSUMER PROTECTION
Chapter 13: Consumer Protection
PART 4: TORTS
Chapter 14: Law of Torts
PART 5: BUSINESS RELATIONSHIPS
Chapter 15: Law of Agency
Chapter 16: Law of Partnerships
Chapter 17: Corporations Law
PART 6: BUSINESS ETHICS
Chapter 18: Business Ethics
Appendix – Legislation extracts
Resource Downloads
Instructor Supplements
Please note: these resources are ONLY for the use of lecturers who have prescribed the relevant text. Please email tlrap.academic@thomson.com to request access.