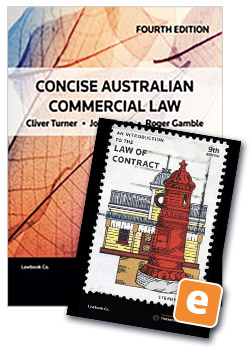 Concise Australian Commercial Law 4th book + Introduction to the law of Contract 9th eBook, (Value Bundle)
Book+eBook

$116.80* $146.00* RRP Save: $29.20 (20%)

Date: 22/12/2016

Code: 42545228

Lawbook Co., AUSTRALIA

Concise Australian Commercial Law 4th book + Introduction to the law of Contract 9th eBook, (Value Bundle)

Sale Price:

$116.80

Saving: $29.20
Description
This Value Pack bundle contains the print book version of Concise Australian Commercial Law 4th edition and the eBook version of An Introduction to the Law of Contract 9th edition
The fourth edition of Concise Australian Commercial Law has been updated to incorporate the legislative amendments and case law developments since the last edition. The updates and amendments to each chapter include the following:
An Introduction to Studying Law includes a re-worked guide on how to approach business law and, in particular, how to approach the various forms of assessment. There are a number of worked examples of typical hypothetical problems, advice on how to approach research assignments and multiple-choice questions.
The chapter on the Australian Legal System has been simplified so as to make it more accessible for the non-law student.
In the Contract Law chapters, reflecting the changed legal and commercial environment, there are new sections on online contracting and the regulation of electronic transactions. These chapters also incorporate a number of recent decisions including the High Court's decisions in Paciocco v Australia and New Zealand Banking Group Ltd (2016) on penalties and Crown Melbourne Ltd v Cosmopolitan Hotel (2016) on unconscionable conduct and collateral contracts.
The Consumer Protection chapter includes a number of significant cases in relation to s 18 (misleading conduct), ss 20 – 22 (unconscionable conduct) and ss 23 – 24 (unfair contract terms). The recent amendments to the unfair contract terms provisions that came into effect in November 2016 have also been included, along with relevant examples and cases.
The chapter on the Law of Torts – particularly in relation to negligent misstatement – has also been extensively revised and re-worked to make it more accessible to the non-law student. Mules v Ferguson (2015) on the question of causation and the peer professional opinion defence liability has been included.
The final chapters on Business Organisations contain a new introductory section and each chapter has been streamlined to provide optimum clarity for the non-law student.
To ensure the text is a more complete teaching and learning package, there are a revised set of tutorial activities at the end of each chapter that have been written with the non-law student in mind so that they can be genuinely used to determine whether learning outcomes have been met. There is also a guide on how to approach the study of commercial law, including advice on tackling the most common assessment tasks – hypothetical problem questions (where there are several "worked" examples), research assignments and multiple-choice questions.
There is a more extensive glossary in this edition and most of the relevant legislation is now included in the Appendix.
An Introduction to the Law of Contract remains a highly successful, easy to read, easy to understand textbook for students encountering the law of contract for the first time.

This edition brings its coverage completely up-to-date and includes references to all of the major caselaw and legislative changes that have occurred since 2014.

The major new cases covered include:
The High Court's decisions in Paciocco v ANZ Banking Group (penalties and unconscionability), Mount Bruce Mining Pty Limited v Wright Prospecting Pty Limited (construction of contracts), Crown Melbourne Ltd v Cosmopolitan Hotel (Vic) Pty Ltd (promissory estoppel and collateral contracts), Simic v New South Wales Land and Housing Corporation (rectification and 'continuing common intention') and Gynch v Polish Club Ltd (illegality);
Mainteck Services Pty Ltd v Stein Heurtey SA, Essential Beauty Franchising (WA) Pty Ltd v Pilton Holdings Pty Ltd and Technomin Australia Pty Ltd v Xstrata Nickel Australasia Operations Pty Ltd (ambiguity);
Baldwin v Icon Energy Ltd and Mushroom Composters Pty Ltd v IS & DE Robertson Pty Ltd (good faith);
Vantage Systems Pty Ltd v Priolo Corporation Pty Ltd, Ailakis v Olivero (No 2), Arfaras v Vosnakis and Smilevska v Smilevska (No 2) (intention to be bound)
Hawcroft v Hawcroft General Trading Co Pty Ltd, HWG Holdings Pty Ltd v Fairlie Court Pty Ltd and Menegazzo v PricewaterhouseCoopers (mistake); and
Arab Bank Australia Ltd v Sayde Developments Pty Ltd and Stoyanova v Equity-One Mortgage Fund Ltd (penalties)
The legislative changes referred to include, in particular, the amendments to the Australian Consumer Law's unfair contract terms provisions, which were extended to include 'small business contracts' as well as the 'consumer contracts' to which they had previously applied.

An Introduction to the Law of Contract, 9th Edition continues to be a valuable resource for all students undertaking contract law at undergraduate level and is, especially, essential reading for accounting, business and commerce students.
Table of Contents
PART 1: INTRODUCTION
Chapter 1: An Introduction to Law and the Australian Legal System
PART 2: LAW OF CONTRACT
Chapter 2: Introduction to the Law of Contract
Chapter 3: Offer and Acceptance
Chapter 4: Intention to Create Legal Relations
Chapter 5: Consideration, Promissory Estoppel and Formalities
Chapter 6: Contractual Capacity
Chapter 7: Genuine Consent
Chapter 8: Legality of Object
Chapter 9: Contents and Interpretation of the Contract
Chapter 10: Operation of the Contract
Chapter 11: Termination of a Contract
Chapter 12: Remedies
PART 3: CONSUMER PROTECTION
Chapter 13: Consumer Protection
PART 4: TORTS AND ETHICS
Chapter 14: Law of Torts
PART 5: BUSINESS RELATIONSHIPS
Chapter 15: Law of Agency
Chapter 16: Law of Partnership
Chapter 17: Corporations Law
PART 6: BUSINESS ETHICS
Chapter 18: Business Ethics
Resource Downloads
Instructor Supplements
Please note: these resources are ONLY for the use of lecturers who have prescribed the relevant text. Please email tlrap.academic@thomson.com to request access.
*
eBooks and packages including an eBook may not be returned once the software key has been supplied. Your rights as a customer to access and use the ProView™ software and a ProView eBook are subject to acceptance of the ProView content licence agreement.
NB
An email with a registration key and instructions for accessing your eBook will be sent after checkout. For existing ProView users the eBook will appear in your library after checkout.

Forthcoming/pre-order eBooks will be available after the publication date.

The ProView app is not currently available on Kindle. See the latest system requirements