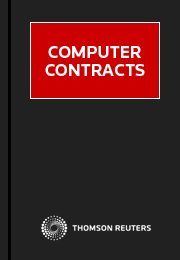 Computer Contracts: Principles and Precedents
Online

Date: 19/10/2004

Code: 41167275

Lawbook Co., AUSTRALIA

Enquiry Sent

A member of our support team will be in touch with you within 1 business day.

Sales Enquiry Form

Computer Contracts: Principles and Precedents

For questions about how to use this product or to get help with your account please visit the Help Centre or Contact Support directly.
Description
Computer Contracts: Principles & Precedents, which has a national and international focus, collates the breadth of information you need to negotiate and draft contracts for the sale, or acquisition, of computer products and computer-related services. Each contract is drafted in the alternative with a Checklist of key clauses making it easy to advise on your client's specific situation.

Commentary covers policy, legislative and case law developments on contract law, intellectual property issues, remedies and taxation, with specific focus on important industry developments, such as internet and contemporary regulatory issues, including spam, defamation, crime, censorship, copyright and privacy.

We are continuing to expand the suite of over 90 precedents, which include 3D Printing Service Agreements,Software as a Service Agreement ( Cloud), Software Sale Agreement, Hardware Agreements, Firewall Management Agreements, and Terms and Conditions for different commercial uses of websites, with Finance Lease Agreements, Content Filtering and Hosting Services Agreements, Website Evaluation Agreements, Data Warehousing Agreements, Operational Data Store Agreements as well as the latest versions of the GITC contracts.

The most relevant government and industry papers reporting or influencing policy developments publish along with the latest cases, including the important spam decisions. The Year in Review section covers discussion of significant events in the computer contracts area of law during the previous year plus case digests, specially selected by the authors.

This service is an important resource for users ranging from expert to those who only occasionally practise in this area.