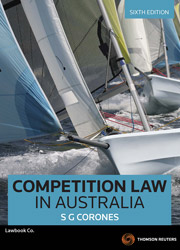 Competition Law in Australia 6th edition book + ebook
Book+eBook

Date: 07/10/2014

Code: 41675653

Lawbook Co., AUSTRALIA

Competition Law in Australia 6th edition book + ebook
Description
Competition Law in Australia, 6th edition provides a comprehensive discussion of the provisions of the Competition and Consumer Act 2010 (Cth) (CCA) dealing with the regulation of competition and markets in Australia. This book covers disparate topics, such as restrictions in horizontal and vertical agreements, horizontal mergers and acquisitions, misuse of market power, and access to services necessary to compete in upstream or downstream markets. However, the unifying theme of this text is that it is not possible to use a formalistic approach in applying the CCA. The decisions of the courts, and the competition authorities responsible for implementing and enforcing the CCA, underline the need to undertake a detailed substantive economic analysis of the effect of the agreement or conduct at issue on competition, efficiency and consumer welfare.
This edition includes discussion about recently enacted legislation:
Trade Practices Amendment (Australian Consumer Law) Act (No 2) 2010 (Cth) (changing the name of the Act);
Trade Practices Amendment (Infrastructure Access) Act 2010 (Cth) (amending the National Access Regime in Pt IIIA and related provisions in Pt IIIA);
Telecommunications Legislation Amendment (Competition and Consumer Safeguards) Act 2010 (Cth) (repealed Div 8 of Pt XIC so that the ability of parties to seek arbitration of access disputes was removed);
Competition and Consumer Amendment Act (No 1) 2011 (Cth) (anti-competitive disclosure of pricing and other information); and
Competition and Consumer Legislation Amendment Act 2011 (Cth) (amending s 50 of the CCA to catch creeping acquisitions).
The sixth edition also considers important appellate decisions such as that of the High Court of Australia in The Pilbara Infrastructure Pty Ltd v Australian Competition Tribunal (declaration criteria, s 44H), and the Full Federal Court in ACCC v Metcash Trading Limited (merger, s 50). In addition, a large number of new Federal Court decisions are analysed including, amongst others: ACCC v TF Woollam & Son Pty Ltd (No 2) (cover pricing, s 45); McHugh v Australian Jockey Club Limited (No 13) (restrictions on entry, ss 45 and 46); Norcast SarL v Bradken Limited (No 2) (collaborative bidding, s 44ZZRD); ACCC v Cabcharge Australia Ltd (refusal to supply, s 46); ACCC v Link Solutions Pty Ltd (No 2) (third line forcing, s 47); ACCC v Mitsubishi Electric Australia Pty Ltd (resale price maintenance, s 48).
This edition also takes account of changes in the ACCC's published processes and procedures in enforcing the CCA, including its Guide to Exclusive Dealing Notifications (April 2011), Authorisation Guidelines (June 2013) and Informal Merger Review Process Guidelines (September 2013).
Table of Contents
1. Competition Policy and Economic Theory
2. Economic Concepts and Definitions
3. Legal Background and Overview
4. Field of Application of the Act
5. Cartel provisions and price signalling conduct
6. Anti-competitive Contracts, Arrangements and Understandings
7. Mergers and Acquisitions
8. Misuse of Market Power
9. Exclusive Dealing
10. Resale Price Maintenance
11. Intellectual Property and Competition
12. Anti-competitive Conduct: Telecommunications
13. Access To Essential Services: Part IIIA
14. Sector-Specific Access Regimes
15. ACCC Investigation: Practice and Procedure
16. Public Enforcement
17. Private Remedies

*
eBooks and packages including an eBook may not be returned once the software key has been supplied. Your rights as a customer to access and use the ProView™ software and a ProView eBook are subject to acceptance of the ProView content licence agreement.
NB
An email with a registration key and instructions for accessing your eBook will be sent after checkout. For existing ProView users the eBook will appear in your library after checkout.

Forthcoming/pre-order eBooks will be available after the publication date.

The ProView app is not currently available on IPhone or Kindle. See the latest system requirements