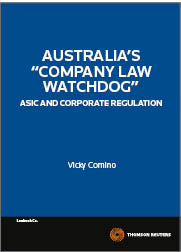 "Company Law Watchdog" - ASIC and Corporate Regulation - Book
Book

Date: 11/03/2015

Code: 9780455234816

Thomson Reuters, AUSTRALIA

"Company Law Watchdog" - ASIC and Corporate Regulation - Book
Description
"The central focus of Australia's "Company Law Watchdog": ASIC and Corporate Regulation is the issue of ASIC's effectiveness, and most importantly, how it might be made more effective. Drawing on work undertaken as part of her doctoral thesis, Dr Comino identifies the factors that have hampered ASIC's effectiveness and which have contributed to its mixed record of success in pursuing those responsible for some of Australian's largest financial scandals." Extract from the Foreword by Ross Grantham, Professor of Commercial Law, TC Beirne School of Law, UQ.
AUTHOR
Dr Vicky Comino is a Lecturer at The University of Queensland. Dr Comino''s main research area is corporations law, and in particular the regulation of corporate misconduct. Before commencing an academic career, she practised as a solicitor working at Morris Fletcher & Cross (now Minter Ellison Lawyers) in the fields of corporate law, leasing, commercial and residential conveyancing, strata development, securities and opinion work. Over the years, Dr Comino has worked voluntarily for Legal Aid, South Brisbane Immigration & Community Legal Service, Women's Equal Opportunity (WEO) and Justice and the Law Society (JATL) (UQ). She has also served on numerous committees, most recently on the Queensland Law Society Business Law Specialist Accreditation Advisory Committee.

Dr Comino''s 2015 monograph Australia''s "Company Law Watchdog" - ASIC and Corporate Regulation focuses on exploring how, and to what extent, ASIC in its role as corporate regulator can achieve more effective regulation of the corporations legislation and consolidates her position as a leading researcher in Australia on corporate regulation. Her recent articles have addressed topics in the corporations law field, particularly the problems facing the use of civil penalties by calling for the enactment of legislation to resolve procedural obstacles. Dr Comino holds the degrees of BA, LLB (Hons), LLM and PhD (UQ).
Table of Contents
Table of Contents
Part 1. Regulatory Models and Strategic/Responsive Regulation
1. National Corporate Regulation - A Clean Slate
2. Justification for Corporate Law Regulation and the Definition of "Effective" Regulation
3. Theories of Regulation
4. Strategic Regulation Theory and Pyramidal Enforcement
Part 2. ASIC's Ability to Implement Pramidal Enforcement
5. The Original Civil Penalty Regime in Part 9.4B and its Weaknesses
6. The 2000 Reforms and ASIC's Enforcement Record
7. The Civil Penalty Problem - The Courts' Treatment of Civil Penalties as Quasi-criminal Offences
8. Failure by ASIC to Use the Full Range of Remedies under Strategic Regulation Theory
9. Technical Problems Faced by ASIC that are Undermining its Ability to be an Effective Regulator
10. ASIC's Effectiveness as Corporate Regulator
11. Recommendations for the Future