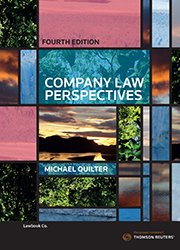 Company Law Perspectives Fourth Edition - Book
Book

$58.80* $147.00 RRP Save: $88.20 (60%)

Date: 10/12/2019

Code: 9780455243542

Lawbook Co., AUSTRALIA

Company Law Perspectives Fourth Edition - Book

Sale Price:

$58.80

Saving: $88.20
Description
The fourth edition of Company Law Perspectives continues the approach of previous editions by engaging the reader in the broader business context in which the law operates. The law is updated, and new cases are introduced.
This edition includes commentary on the most recent ASX Corporate Governance Council Principles and Recommendations, the "safe harbour" protection for directors regarding insolvent trading, directors and the corporate veil, crowd-sourced funding, and the increased penalties for directors introduced into the Corporations Act 2001 (Cth) by the Treasury Laws Amendment (Strengthening Corporate and Financial Sector Penalties) Act 2019 (Cth).
To introduce the broader legal framework in which the corporate law operates chapters outlining the legal system, the law of contract and the law of tort are included. A section on study strategy presents ideas that may help to facilitate an understanding of the law and improve outcomes in assessments.
Statistics are included to show the effects of the application and impact of the law, including female board representation, insolvency outcomes and ASIC's enforcement activity. The range of sources include: the Corporations Act 2001 (Cth); judgments; ASIC Information Sheets and Media Releases; newspaper commentary; and scholarly legal journal articles. Each source has a different role to play in the practice and perception of the corporate environment and their inclusion supports the contextual approach of Company Law Perspectives.
With its clear and succinct style, and its multidimensional approach, Company Law Perspectives provides a solid and accessible framework for learning and understanding company law.