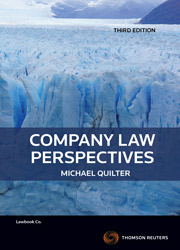 Company Law Perspectives 3e bk + ebk
Book+eBook

Date: 06/03/2017

Code: 42070440

Lawbook Co., AUSTRALIA

Company Law Perspectives 3e bk + ebk
Description
The third edition of Company Law Perspectives maintains previous editions' focus on extracts that engage the reader in the broader business context in which the law operates. The law is updated, more detail is provided in relation to certain existing cases and new cases are introduced. The most recent ASX Corporate Governance Principles, recent issues involving ASIC, and the impact of the Insolvency Law Reform Act 2016 (Cth) and the Corporations Legislation Amendment (Deregulatory and Other Measures) Act 2015 (Cth) are some of the inclusions in this edition.
This edition adds three new chapters outlining the broader legal framework in which the corporate law operates including, the legal system, the law of contract and the law of tort. These chapters provide an introduction to the way in which the law approaches rights and obligations generally and form a useful foundation for the more detailed law relating to companies that follows.
Statistics are included to show the effects of the application and impact of the law, including female board representation, insolvency outcomes and ASIC's enforcement activity. The range of sources include: the Corporations Act 2001 (Cth); judgments; ASIC Information Sheets and Media Releases; newspaper commentary; and scholarly legal journal articles. Each source has a different role to play in the practice and perception of the corporate environment and their inclusion supports the contextual approach of Company Law Perspectives.
With its clear and succinct style, and its multidimensional approach, Company Law Perspectives provides a solid and accessible framework for learning and understanding company law.
Table of Contents
Table of Contents
1. The Legal System
2. Contract
3. Tort
4. Agency
5. Comparison of business organisations
6. History and legislative framework of company law
7. Types of companies
8. Registration and its effects
9. Constitution and replaceable rules
10. Company liability in contract
11. Company liabiltiy in tort and crime
12. Promoters and pre-registration contracts
13. Company financing
14. Fundraising
15. Share capital
16. Dividends
17. Debentures and loan capital
18. Directors and management
19. Directors' fiduciary duties
20. Directors' statutory duties
21. Remedies and penalties for directors' breaches
22. Financial and reporting obligations
23. Auditors
24. ASIC investigation
25. Members' rights
26. Members' meetings
27. Takeovers
28. Financial services and markets
29. Insolvency
30. Arrangements and reconstructions
31. Voluntary administration
32. Receivership
33. Liquidation
34. Company regulation in the Competition and Consumer Act
*
eBooks and packages including an eBook may not be returned once the software key has been supplied. Your rights as a customer to access and use the ProView™ software and a ProView eBook are subject to acceptance of the ProView content licence agreement.
NB
An email with a registration key and instructions for accessing your eBook will be sent after checkout. For existing ProView users the eBook will appear in your library after checkout.

Forthcoming/pre-order eBooks will be available after the publication date.

The ProView app is not currently available on Kindle. See the latest system requirements