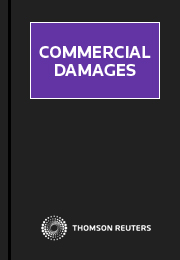 Commercial Damages
Online

Date: 14/11/2008

Code: 41167165

Lawbook Co., AUSTRALIA

Enquiry Sent

A member of our support team will be in touch with you within 1 business day.

Sales Enquiry Form

Commercial Damages

For questions about how to use this product or to get help with your account please visit the Help Centre or Contact Support directly.
Description
Commercial Damages is a litigation subscription service offering assistance to commercial lawyers acting for clients with damages claims. Its author, Sydney Jacobs, is a barrister specialising in a range of areas including commercial law, equity, contracts, property and building, trade practices, professional negligence and insurance law.

Developing themes explored in his well-regarded earlier text, Damages in a Commercial Context (LBC Information Services, 2000), Jacobs offers a combination of practical guidance and detailed analysis, kept up-to-date as developments as occur. Updates for Commercial Damages focus on issues in wide apart areas, reflecting the range of case law going through Australia's courts. With the Federal Court alone releasing over 2000 judgments annually, and full State superior courts building and commercial lists, litigators face a challenge, and here Commercial Damages assists commercial lawyers to keep up to date - with the cases and with what they mean for litigation strategies and outcomes, important given what's at stake for the parties.

The appeal of the work for both solicitors and barristers is enhanced by its clear organisation and thorough commentary, making it easy to find help quickly or to delve more deeply into an area. After addressing the rules relating to damages in contract, tort and Trade Practices Act claims, all of which prima facie call for full compensation, Jacobs moves thematically to principles which make sometimes subtle inroads into the compensation principle, including causation, remoteness, mitigation, contributory negligence, contribution/ indemnity and apportionment. Significant matters such as pre and post judgment interest and the date for assessment of damages are all covered. Further assisting practitioners, the author addresses damages in specific contexts such as sale of businesses, sale of land, construction law, leases / hire purchase and penalties, and finally what might be included in the pleadings and what evidence to marshal.

A specialist work within Thomson Reuters' commercial litigation suite, Commercial Damages is offered in online and eSub formats, responding to ongoing judicial interpretation and statutory intervention.