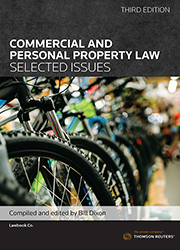 Commercial and Personal Property Law: Selected Issues Third Edition - Book & eBook
Book+eBook

Date: 04/07/2019

Code: 42145417

Lawbook Co., AUSTRALIA

Commercial and Personal Property Law: Selected Issues Third Edition - Book & eBook
Description
A custom publication for students studying Commercial and Personal Property Law at QUT.
This 3rd edition includes two new original chapters on the Personal Property Securities Act 2009 (Cth) written by Associate Professor Bill Dixon, as well as current material sourced from the Thomson Reuters portfolio.
This publication is also available to other institutions.
Table of Contents
Part 1 The Concept of Property
Ch 1 What is Property?
Ch 2 Distribution of Property
Part 2 Physical Limits to Land and Fixtures
Ch 3 Physical Changes to Things
Part 3 Ownership, Possession and Transfer of Rights to Personal Property
Ch 4 Possession
Part 4 Bailment
Ch 5 Bailment
Part 5 Agency
Ch 6 Agency
Part 6 Australian Consumer Law - Misleading Conduct
Ch 7 Consumer Protection Policy and Overview of the ACL
Ch 8 Key Definitions and Concepts
Ch 9 Misleading or Deceptive Conduct
Ch 10 Private Remedies
Part 7 Security Interests in Personal Property
Ch 11 Security Rights
Ch 12 Introduction to the Personal Property Securities Act 2009 (Cth)
Ch 13 The Personal Property Securities Act 2009 (Cth) in operation
Part 8 Sale of Goods
Ch 14 Sale of Goods
Part 9 Australian Consumer Law - Consumer Guarantees
Ch 15 Consumer Guarantees for Goods and Services
Ch 16 Consumer Guarantees, Contracting Out and Warranties against Defects
Ch 17 Remedies Relating to the Consumer Guarantees
*
eBooks and packages including an eBook may not be returned once the software key has been supplied. Your rights as a customer to access and use the ProViewâ"¢ software and a ProView eBook are subject to acceptance of the ProView content licence agreement.
NB
An email with a registration key and instructions for accessing your eBook will be sent after checkout. For existing ProView users the eBook will appear in your library after checkout.

Forthcoming/pre-order eBooks will be available after the publication date.

The ProView app is not currently available on Kindle. See the latest system requirements