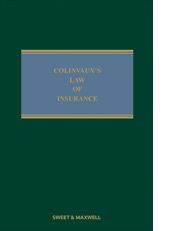 Colinvaux's Law of Insurance 11th edition 2nd supplement
Book

$285.60* $336.00 RRP Save: $50.40 (15%)

Date: 29/10/2018

Code: 9780414067813

Sweet & Maxwell, UNITED KINGDOM

Colinvaux's Law of Insurance 11th edition 2nd supplement

Sale Price:

$285.60

Saving: $50.40
Description
Colinvaux's Law of Insurance provides succinct yet comprehensive analysis of all areas of UK insurance law, focusing on the core components of insurance contracts, the parties involved, and special cases of insurance. Incorporating the changes introduced by the Insurance Act 2015, it continues to be an essential reference on the subject.
This second cumulative supplement updates the 11th edition text with the latest case law developments at the highest levels of the UK courts, recent changes to the regulatory system, legislative updates, and decisions of the Financial Ombudsman Service.
Comprehensive overview of the essential principles of insurance law in the United Kingdom.
Analyses three distinct areas: insurance contracts, the parties involved, and special types of insurance.
Explains the core components of insurance contract law including risk, utmost good faith, premiums, claims, and loss.
Detailed commentary on the construction of insurance policies and the rules governing wording and phrasing.
Examines nine special types of insurance including life and accident, liability, property, motor vehicle, financial, marine, and war risk.
Discusses the regulatory structure of the UK insurance industry as well as the impact of insolvency on insurance companies.
Comprehensively updated to examine the new law introduced by the Insurance Act 2015.
New chapter covering the duty of fair presentation.
Commentary on conditions and warranties has been rewritten to take account of the important new restrictions on the enforcement of warranties and risk clauses.
New discussion on the principles applicable to remedies for fraudulent claims.
Looks at the liability of third parties in the context of the Third Parties (Rights Against Insurers) Act 1930.
Additional international dimension with analysis of some of the most significant Commonwealth decisions affecting the English courts.
Dedicated chapter on the rights of the insurer.
Addresses the introduction of the Brussels Regulation Recast, affecting jurisdictional rules for claims with an EU dimension.
Looks at proposals in the Enterprise Bill 2016 to introduce a right to damages for late payment of insurance claims.
Updated with the latest decisions on almost every aspect of insurance law, including aggregation of losses, the duties of brokers, the making of claims under liability policies, marine policy coverage, subrogation, contribution, and the effect of illegality on insurance claims.
Analyses the litigation occurring from the Canterbury earthquakes in New Zealand and issues of loss measurement and reinstatement.
Table of Contents
PART I: The Contract of Insurance
1. Contract of Insurance
2. Conflict of Laws
3. Construction of the Policy
4. Insurable Interest
5. The Risk
6. The Duty of Utmost Good Faith
7. Presentation of the Risk
8. Terms of Insurance Contracts
9. The Premium
10. Claims
11. Loss and the Measure of Indemnity
12. The Rights of Insurers
13. Statutory Control of Policies
PART II: The Parties
14. The Regulation of Insurers
15. The Assured
16. Insurance Intermediaries
17. The Insolvency of Insurance Companies
PART III: Special Types of Insurance Contract
18. Reinsurance
19. Life and Accident Insurance
20. Property Insurance
21. Liability Insurance
22. Third Party Rights under Liability Policies
23. Motor Vehicle Insurance
24. Financial Insurance
25. Marine Insurance
26. War Risks