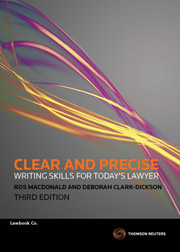 Clear & Precise Writing Skills for Today's Lawyer 3rd Edition
Book

Date: 08/10/2010

Code: 9780455228112

Thomson Reuters, AUSTRALIA

Clear & Precise Writing Skills for Today's Lawyer 3rd Edition
Description
Many students begin a law course believing 'real' lawyers write in legalese. Clear and Precise: Writing skills for today's lawyer, 3rd Edition, encourages law students and lawyers to use plain English techniques in the language, structure, content, style and presentation of their writing. The release of the first edition of this manual was one element of a campaign by the Queensland Law Society Plain English Committee to promote clear, precise and effective communication at all levels in the legal community. Thomson Reuters took on the task of publishing a second edition, and ongoing interest in the manual as a teaching aid has led to this revised and updated third edition.

New to the third edition:
• a more detailed discussion on interpretation and definition clauses;
• a new chapter "Writing for Clients with Literacy Problems";
• expanded material on professional letter writing; and
• new content relating to writing emails.

In the last few decades, the application of plain language principles to legislation has been central to debate about improving access to justice. Deborah Clark-Dickson's interest in plain English was stimulated by participating in the Office of the Queensland Parliamentary Counsel's efforts to make legislation more accessible to people generally. Deborah was manager of OQPC's plain English and editorial standards section for four years and a member of the Queensland Law Society Plain English Committee from 1996 until 2004.

Ros Macdonald is a late vocational entrant into law, who learnt how to parse a sentence in primary school. She has developed her interest in plain English legal writing while teaching drafting at QUT. Ros, like Deborah Clark-Dickson was a member of the Plain English Committee of the Queensland Law Society from 1996 until 2004, when the committee was disbanded. She wrote her PhD on sustainable development.

CONTENTS
1. What is plain English?
2. Planning your Document
3. Avoiding Legalese
4. Non-discriminatory language
5. Document Presentation
6. Letter Writing
7. Writing for clients with literacy problems (New Chapter)
8. The Finishing Touch
9. Putting it into Practice

Editorial Reviews
From: Abstract from Thomson Reuters

Many students begin a law course believing "real" lawyers write in legalese. Clear and Precise: Writing skills for today's lawyer, 3rd Edition, encourages law 'students and lawyers to use plain English techniques in the language, structure, content, style and presentation of their writing. The release of the first edition of this manual was one element of a campaign by the Queensland Law Society Plain English Committee to promote clear, precise and effective communication at all levels in the legal community. Thomson Reuters took on the task of publishing a second edition and ongoing interest in the manual as a teaching aid has led to this revised and updated third edition.

New to the third edition: more detailed discussion on interpretation and definition clauses; a new chapter "Writing for Clients with Literacy Problems"; expanded material on professional letter writing; and new content relating to writing mails.