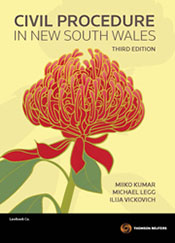 Civil Procedure in New South Wales 3e
Book

Date: 22/12/2015

Code: 9780455232607

Thomson Reuters, AUSTRALIA

Enquiry Sent

A member of our support team will be in touch with you within 1 business day.

Sales Enquiry Form

Civil Procedure in New South Wales 3e

For questions about how to use this product or to get help with your account please visit the Help Centre or Contact Support directly.
Description
Civil Procedure in New South Wales, 3rd Edition covers core civil procedure issues in a hands-on and engaging way. The purpose of the book is to provide a scaffold to elevate understanding of these issues, thereby encouraging compliance with a body of regulatory rules that may otherwise appear overwhelming and impenetrable.
This edition includes:
analysis of the overriding purpose including Expense Reduction Analysts Group Pty Ltd v Armstrong Strategic Management and Marketing Pty Ltd;
discussion of the interaction between minimising cost and delay with the principle of a fair trial;
updated ethical requirements, including reference to the Legal Profession Uniform Law Australian Solicitors' Conduct Rules 2015 and The Legal Profession Uniform Conduct (Barristers) Rules 2015;
expanded discussion of alternative dispute resolution, including the Commercial Arbitration Act 2010 (NSW), use of a referee and expert determination;
new case law on limitation periods, including New South Wales v Gillett ;
updated case law on preliminary discovery (Roads and Traffic Authority of New South Wales v Care Park Pty Ltd and Rinehart v Nine Entertainment Co Holdings Ltd) and discussion of the new practice direction on discovery;
legislative developments such as the new Legal Profession Uniform Law Application Act 2014, Uniform Law Costs and Ordered Costs regime, the Legal Profession Uniform Law Application Regulation 2015 (NSW), and amendments to the Uniform Civil Procedure Rules 2005 (NSW);
new case law on causes of action and parties, including extracts from Tomlinson v Ramsey Food Processing and references to Charafeddine v Morgan and Shaw v Gadens Lawyers; Shaw v Rigby Cooke Lawyers;
addition of new extracts to initiating proceedings and pleadings (including Boral Bricks Pty Ltd v Cosmidis and State of New South Wales v Williams); and
commentary on the updated Attorney-General (Cth) information on service overseas through diplomatic channels, and service under the Hague Convention.
Civil Procedure in New South Wales is a scholarly yet accessible work of great benefit to any person involved in the practice of law in the State of New South Wales.
Table of Contents
1 Introduction to Civil Procedure
2 Case Management in NSW
3 Costs of Litigation
4 Alternatives to Litigation – Negotiation and Mediation
5 Alternatives to Litigation – Arbitration, Referees and Expert Determination
6 Before a civil Action Commences
7 Causes of Action & Parties
8 Class actions in NSW
9 Initiating Proceedings & Service
10 Amendment, Mistakes & Adjournments
11 Service
12 Discovery Subpoenas & Interrogatories
13 Preparing and Presenting Evidence
14 Privilege
15 Concluding Proceedings
16 Civil Procedure in Context