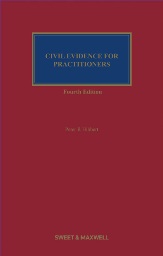 Civil Evidence for Practitioners 4th Edition
Book

Date: 21/05/2014

Code: 9781908013156

Sweet & Maxwell, UNITED KINGDOM

Civil Evidence for Practitioners 4th Edition
Description
Civil Evidence for Practitioners is a practical, "hands-on" textbook on civil evidence. It clearly explains the evidential issues that apply at each stage of a civil litigation action and offers best practice advice on the steps that should be taken and what actions should be avoided.
The book now has a major new chapter on e-disclosure, dealing with the project management of the disclosure of electronically stored information, including identification of sources of digital evidence, preservation, collection and review of data, together with templates for the preparation of cost estimates for the e-disclosure process.
There is also a brand new chapter on offensive and defensive strategies in the context of disclosure applications. This chapter examines the tactics for making and resisting pre-action and interim applications for disclosure to maximum advantage.
The text incorporates the post-April 2013 changes to the Civil Procedure Rules, including the new provisions for relief from sanctions and the Court of Appeal's new tougher, structured approach to such applications in Mitchell v MGN Ltd [2013] EWCA Civ 1537. Other recent developments include the Supreme Court's decisions in: Rugby Football Union v Viagogo Ltd [2012] UKSC 55 (Norwich Pharmacal orders); and R. (Prudential) v Special Commissioner for Income Tax [2013] UKSC 1 (legal professional privilege).
The book also covers recent developments arising from Re Atrium Training Services Ltd [2013] EWHC 2882 (Ch) (on how to determine whether a party is in breach of an "unless" disclosure order); Smith v Secretary of State for Energy and Climate Change [2013] EWCA Civ 1585 (pre-action disclosure); Interflora Inc v Marks & Spencer Plc [2013] EWHC 936 (on what constitutes expert evidence for the purposes of CPR Part 35); Interflora Inc v Marks & Spencer Plc [2013] EWCA Civ 319 ("Interflora 2") (on the use of consumer survey evidence); and Boyd v Incommunities Ltd [2013] EWCA Civ 756 and JW Spear & Sons Ltd v Zynga Inc [2013] EWHC 3348 (Ch) (on the use of anonymous hearsay statements), amongst many other cases, especially those dealing with disclosure of documents.
Table of Contents
1. Effective Case Analysis & Pre-Action Investigation
2. Negotiation & Mediation – The Without Prejudice Rule
3. Pleadings – Evidential Implications
4. Disclosure I: Electronic Disclosure
5. Disclosure II: Disclosure & Privilege
6. Disclosure III: Offensive & Defensive Strategies
7. Interim Applications – Skeleton Arguments & Supporting Evidence
8. Expert Evidence & the Evidential Directions for Trial
9. Preparations for Trial: Drafting Witness Statements for Exchange
10. Preparations for Trial: the Civil Evidence Act 1995
11. Preparations for Trial: Notices to Admit and to Prove
12. Preparations for Trial: Preparing and Agreeing Bundles of Documents
13. Preparations for Trial: Witness Summonses & Video Link Procedures
14. Preparations for Trial: Effective Management of the Evidence
15. The Trial
16. Appendices