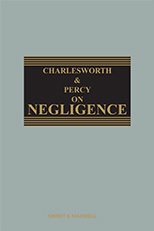 Charlesworth on Negligence 14e 1st Sup
Book

Date: 03/06/2019

Code: 9780414071124

Sweet & Maxwell, UNITED KINGDOM

Enquiry Sent

A member of our support team will be in touch with you within 1 business day.

Sales Enquiry Form

Charlesworth on Negligence 14e 1st Sup

For questions about how to use this product or to get help with your account please visit the Help Centre or Contact Support directly.
Description
The main authority on the law of negligence, and frequently cited in court, Charlesworth & Percy on Negligence covers both common law and statutory duty. Building on the excellence of previous editions, the 14th edition focuses on the considerable body of new case law that has emerged since the previous edition, recent legislative changes and a brand new chapter on the contribution of tortfeasors.


Sets out comprehensively the general principles, covering duty of care and liability issues under the tort of negligence
Shows how the principles developed through the application of the common law and explains how the law of negligence has been applied in the UK and Commonwealth jurisdictions
Explains the duty to take care, when it exists, between what parties it exists and to assess quickly if a cause for action exists
Explains what remedies may be available, including damages and investigates the remoteness of damages as a remedy
Explains the burden of proof in negligence cases
Demonstrates the defences and discharges from liability
Differentiates between nuisance and negligence
Demonstrates the standard of care principle in relation to persons professing some special skill, highways and transport, employee employer relationship
Provides an essential reference for every negligence case whether it is to do with personal injury including resulting in death, property, product liability and injury caused by animals and death
Differentiates between absolute and strict liability
Includes up-to-date statutory duties which means you will know exactly how recent changes apply
Shows, through a detailed analysis of case law, how the principles work in specific situations and sets out the implications of new developments to help you take a view on your particular case
Table of Contents
Part I: General Principles

The Meaning of Negligence;
The Duty to Take Care; Parties;
Principal Defences and Discharges from Liability;
Causation and Remoteness of Damage;
Proof and Damages
Vicarious liability and non-delegable duties

Part II: Standard of Care

The Standard of Care;
Dangerous Premises;
Persons Professing Some Special Skill;
Highways and Transport;
Employment at Common Law;

Part III: Statutory Duty

Liability for Breach of Statutory Duty

Part IV: Absolute or Strict Liability

Dangerous Things:
Rylands & Fletcher;
Animals;
Products Liability;

Part V: Death

Death and Causes of Action;

Part VI: Miscellaneous Matters

Insurance and Other Compensation Schemes