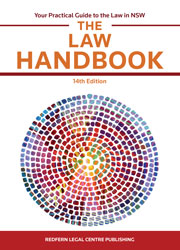 CHAPTER 37 SUPERANNUATION (THE LAW HANDBOOK 15E)
PDF

Forthcoming Release, 12/12/2019

Code: 42067528

Thomson Reuters, AUSTRALIA

CHAPTER 37 SUPERANNUATION (THE LAW HANDBOOK 15E)
Description
'The Law Handbook is the single most important practical guide to the law in New South Wales … it provides an invaluable plain language framework for each legal topic covered, together with a range of practical strategies and options.'
Anna Cody, Director, Kingsford Legal Centre and Associate Professor Faculty of Law UNSW
Natalie Ross, Solicitor/Clinical Supervisor, Kingsford Legal Centre
Sue Walden, Law Librarian and Consultant

The Law Handbook is the plain English guide to the law in New South Wales, providing access to law that affects people in their everyday lives. This fully-revised 14th edition contains 40 chapters with the most up-to-date information possible about the law in New South Wales.
Clear and well-structured introductions to legal topics together with a range of practical strategies and options provide the reader with detailed and accessible information regarding their rights and responsibilities under the law. In addition, every chapter contains a comprehensive list of the organisations and websites you need for further information or help.
Written by over 80 legal experts working in a range of specialties including those from community, government and education sectors, The Law Handbook is an indispensable resource for every household and workplace in New South Wales.

Table of Contents
Chapter 1: About the legal system
Chapter 2: Aboriginal people and the law
Chapter 3: Accidents and compensation
Chapter 4: Assistance with legal problems
Chapter 5: Banking
Chapter 6: Bankruptcy
Chapter 7: Children and young people
Chapter 8: Community organisations
Chapter 9: Complaints
Chapter 10: Consumers
Chapter 11: Contracts
Chapter 12: Copyright
Chapter 13: Credit
Chapter 14: Criminal law
Chapter 15: Debt
Chapter 16: Disability law
Chapter 17: Discrimination
Chapter 18: Dispute resolution
Chapter 19: Domestic violence
Chapter 20: Driving and traffic law
Chapter 21: Drug offences
Chapter 22: Employment
Chapter 23: Environment and planning
Chapter 24: Family law
Chapter 25: Freedom of information
Chapter 26: Health law
Chapter 27: Housing
Chapter 28: Immigration and refugee law
Chapter 29: Insurance
Chapter 30: Internet law
Chapter 31: Media law
Chapter 32: Neighbours
Chapter 33: Prisoners
Chapter 34: Same-sex couples and their families
Chapter 35: Sexual offences
Chapter 36: Social security entitlements
Chapter 37: Superannuation
Chapter 38: Taxation
Chapter 39: Victims support
Chapter 40: Wills, estates and funerals

*
By downloading this PDF file you agree to the following:
1. That the file is for your sole use and purpose;
2. You may print this file but only if it is for your personal use;
3. You will not share or make copies of the PDF and will not permit the file to be published or distributed in any other way which is contrary to personal use.
You should note that this material is copyright protected. Please contact us if you would like permission to reproduce this content.