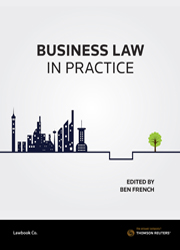 Business Law in Practice ebook
eBook - ProView

Date: 17/07/2018

Code: 9780455241555

Lawbook Co., AUSTRALIA

Business Law in Practice ebook
Description
Compiled and edited by Ben French, Business Law in Practice incorporates chapters from Concise Australian Commercial Law by Turner, Trone and Gamble, as well as two original chapters: Employment Law; and Anti-Discrimination Law and Equal Employment Opportunity Law, thereby ensuring this text meets the specific requirements of the business law unit at Griffith University.
Business Law in Practice is an excellent resource to lay the foundations of business law knowledge and students will find this text valuable throughout their studies.
This text is available for use by other educational institutions.
Table of Contents
PART 1: INTRODUCTION
1: An Introduction to Law and the Australian Legal System
PART 2: LAW OF CONTRACT
2: Introduction to the Law of Contract
3: Offer and Acceptance
4: Intention to Create Legal Relations
5: Consideration, Promissory Estoppel and Formalities
6: Contractual Capacity
7: Genuine Consent
8: Legality of Object
9: Contents and Interpretation of the Contract
10: Operation of the Contract
11: Termination and Breach of a Contract
12: Remedies
PART 3: CONSUMER PROTECTION
13: Consumer Protection
PART 4: TORTS
14: Law of Torts
PART 5: BUSINESS RELATIONSHIPS
15: Law of Agency
16: Law of Partnerships
17: Corporations Law
PART 6: EMPLOYMENT AND ANTI- DISCRIMINATION LAW
18: Employment Law
19: Anti- Discrimination and Equal Employment Opportunity Law
*
eBooks and packages including an eBook may not be returned once the software key has been supplied. Your rights as a customer to access and use the ProView™ software and a ProView eBook are subject to acceptance of the ProView content licence agreement.
NB
An email with a registration key and instructions for accessing your eBook will be sent after checkout. For existing ProView users the eBook will appear in your library after checkout.

Forthcoming/pre-order eBooks will be available after the publication date.

The ProView app is not currently available on Kindle. See the latest system requirements