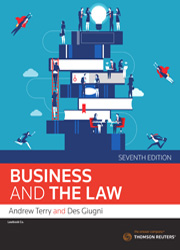 Business and the Law 7th ed
Book

Forthcoming Release, 31/12/2018

Code: 9780455241623

Lawbook Co., AUSTRALIA

Business and the Law 7th ed
Description
The law regulating commercial conduct and commercial relationships is increasingly complex and important. The 7th Edition of Business and the Law has been written to offer business law students a comprehensive and accessible introduction to the Australian legal system and to the major areas of law impacting on business today. It is also a valuable resource for any business professional or small business requiring an intelligent introduction to contemporary business law in Australia.
Business and the Law is academically rigorous but also accessible. It includes concise case examples as well as more comprehensive case studies of leading decisions to demonstrate how relevant laws are applied.
The 7th Edition includes a chapter on "The Modern Corporation" and all cases, legislation and topical news features have been updated for currency. This edition has been updated by a team of contributors from The University of Sydney Business School.
Table of Contents
Part 1 THE AUSTRALIAN LEGAL SYSTEM
1 The Law, the Legal System and the Constitution
2 The Courts and the Common Law
3 The Parliament and Statute Law
4 The Executive and Delegated Legislation
5 Dispute Resolution
Part 2 GENERAL PRINCIPLES OF BUSINESS LAW
6 Contract Law: Concepts of Agreement
7 Contracts in Business
8 Torts Law: Concepts of Liability
9 Property and Securities Law: Concepts of Ownership
10 Criminal Law: Concepts of Control
Part 3 BUSINESS ORGANISATION AND OPERATION
11 Alternative Business Structures
12 The Modern Corporation
13 Relationships in Business: Distributors, Agents, Employees, Independent Contractors
14 Franchising
15 Privacy
16 International Business
17 Business Failure
Part 4 BUSINESS, CONSUMERS AND FAIR TRADING
18 The Australian Consumer Law
19 Misleading or Deceptive Conduct
20 Unconscionable Conduct and Unfair Contract Terms
21 Advertising and Sales Promotion
22 Supply of Goods and Services
Part 5 BUSINESS AND COMPETITIVE TRADING
23 Restrictive Trade Practices and Competition Law
24 Intellectual Property Law
Part 6 BUSINESS AND THE LAW
25 Business Regulation, Risk and Compliance
* Pre-order: This item will be available on: 31 Dec 2018