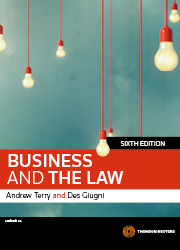 Business and the Law 6th edition book + eBook
Book+eBook

Date: 30/04/2016

Code: 41822889

Lawbook Co., AUSTRALIA

Business and the Law 6th edition book + eBook
Description
The law regulating commercial conduct and commercial relationships is increasingly complex and important. The sixth edition of Business and the Law has been written to offer business law students a comprehensive and accessible introduction to the Australian legal system and to the major areas of law impacting on business today. It is also a valuable resource for any business professional or small business requiring an intelligent introduction to contemporary business law in Australia.
This new edition of this established and respected text has been substantially restructured and revised to incorporate significant legislative and common law developments. It includes a new chapter addressing contracts in business, which builds on the foundational contracts chapter. Recent developments relating to the Australian Consumer Law are discussed, including the extension of the consumer unfair contract terms law to small business, as are the recommendations of the Harper Competition Policy Review.
Business and the Law is academically rigorous but also accessible. It includes concise case examples as well as more comprehensive case studies of leading decisions to demonstrate how relevant laws are applied. Media items are liberally used to illustrate the relevance and application of business law to contemporary business.
Business and the Law, 6th Edition addresses the legal environment for business; the structures, transactions and relationships through which business is conducted; and the regulation of business in Australia. It addresses issues of real significance to each of Australia's two million businesses – not only the very small percentage of large firms, but the medium, small and micro enterprises which comprise the vast majority. This book is a sensible investment for each of these businesses, as well as being a highly useful student text.
Table of Contents
Part 1 THE AUSTRALIAN LEGAL SYSTEM
1 The Law, the Legal System and the Constitution
2 The Courts and Common Law
3 The Parliament and Statute Law
4 The Executive and Law-Making by Administrative Agencies
5 Commercial Dispute Resolution
Part 2 GENERAL PRINCIPLES OF BUSINESS LAW
6 Contract Law: Concepts of Agreement
7 Contracts in Business
8 Torts: Concept of Liability
9 Property and Securities: Concepts of Ownership
10 Crime: Concepts of Control
Part 3 BUSINESS ORGANISATION AND OPERATION
11 Alternative Business Structures
12 Relationships in Business: Distributors, Agents, Employees and Independent Contractors
13 Franchising
14 Privacy
15 International Business
16 Business Failure
Part 4 BUSINESS, CONSUMERS AND FAIR TRADING
17 The Australian Consumer Law
18 Misleading or Deceptive Conduct
19 Unconscionable Conduct and Unfair Contract Terms
20 Advertising and Sales Promotion
21 Supply of Goods and Services
Part 5 BUSINESS AND COMPETITIVE TRADING
22 Competition Law
23 Intellectual Property Law
Part 6 BUSINESS AND THE LAW
24 Business Regulation, Risk and Compliance
*
eBooks and packages including an eBook may not be returned once the software key has been supplied. Your rights as a customer to access and use the ProView™ software and a ProView eBook are subject to acceptance of the ProView content licence agreement.
NB
An email with a registration key and instructions for accessing your eBook will be sent after checkout. For existing ProView users the eBook will appear in your library after checkout.

Forthcoming/pre-order eBooks will be available after the publication date.

The ProView app is not currently available on Kindle. See the latest system requirements