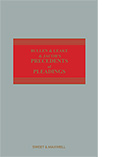 Bullen & Leake Pleadings 18e MW+Sup
Book

Date: 15/12/2017

Code: 9780414038516

Sweet & Maxwell, UNITED KINGDOM

Enquiry Sent

A member of our support team will be in touch with you within 1 business day.

Sales Enquiry Form

Bullen & Leake Pleadings 18e MW+Sup

For questions about how to use this product or to get help with your account please visit the Help Centre or Contact Support directly.
Description
Bullen & Leake & Jacob is widely regarded as the essential guide to drafting statements of case. It offers the advocate a stock of authoritative, structured precedents of statements of case complete with guiding commentary across both mainstream and specialist areas of practice. The 18th edition fully reflects all current issues under the CPR and the legislative and judicial developments in the individual practice areas.
Provides indispensable guidance on drafting statements of case
Presents a wide range of contemporary templates for drafting which can be easily modified for specific cases
Covers all classes of litigation from common areas such as employment law to the more unusual such as sport (109 sectors in total)
Contains both example claims and defences
Provides specific practical guidance on each precedent
Includes new precedents
Sets out each section in a standard order making it highly accessible and user-friendly
Compiled by a team of over 60 leading
Table of Contents
Introduction
Assault, False Imprisonment and Malicious Prosecution
Assignment of Contractual Rights
Aviation
Banking and Financial Services
Business Law
Competition
Computers and IT
Construction
Defamation
Education
Employment
Entertainment Law
Environmental Claims
Fraud
Human Rights and References to the European Court of Justice
Immigration and Judicial Review
Insurance
Intellectual Property
Invasion of Privacy
Personal Injury
Professional Negligence
Property
Restitution
Sports Law