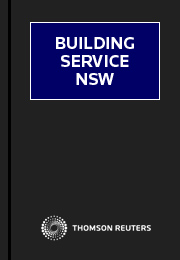 Building Service NSW
Online

Date: 15/05/2007

Code: 41167114

Lawbook Co., AUSTRALIA

Enquiry Sent

A member of our support team will be in touch with you within 1 business day.

Sales Enquiry Form

Building Service NSW

For questions about how to use this product or to get help with your account please visit the Help Centre or Contact Support directly.
Description
The Australian Building Codes Board's National Construction Code (NCC) incorporates all additions and changes regarding building regulations, provisions and solutions to ensure your building practices are current. Building Service NSW contains commentary on the NCC Class 2 to Class 9 Buildings and NCC Class 1 and Class 10 Buildings Housing Provisions, the Plumbing Code of Australia (PCA), related NSW and Commonwealth building legislation, and specialty chapters on work health and safety and construction dispute resolution.
Note: Thomson Reuters publishes the Building Service NSW 3 Volume option and the Building Service NSW 4 Volume option. Building Service NSW Vols 1 and 2 are identical, both containing commentary on the NCC.
The Building Service NSW 3 Volume and Building Service NSW 4 Volume options both contain relevant NSW legislation (including but not limited to the Environmental Planning and Assessment Act & Reg, Building Professionals Act & Reg, and the Building and Construction Industry Security of Payment Act & Reg) and material on work health and safety and construction disputes.
Volume 4 includes further legislation relevant to those working and practicing in the building and construction field, relating to hospitals, restaurants and hotels, electricity and work health and safety.
Features
New Developments section, covering a variety of related materials to keep users abreast of change.
Tables compiled by the previous author, Colin MacLeman.
Commentary on key NCC provisions, including the PCA. PCA commentary regularly reviewed and updated by Ross Brown, Abel & Brown.
Commentary on Work Health and Safety written and regularly reviewed by Raymond Moore, Barrister, Frederick Jordan Chambers.
Security of Payment legislation annotated and regularly updated by Stephen Pyman of CDI Lawyers.
A guide to investigating construction disputes, originally written by Cameron Ford and with a review and expansion scheduled for 2020.
Home Building Act commentary written by Philip Bambagiotti, Barrister, 10th Floor St James Chambers.
A range of regularly updated legislation applicable to the building and construction industry.