Welcome Victorian Barristers – Please Enter Your Promo Code to See Product Discounts
Thomson Reuters is proud to have supported Australian Barristers for over 100 years with law books, online subscription services, loose leafs, law reports, journals and now eBooks and eSubs.
As a Victorian Bar Association member you can SAVE 10% off all local books and up to 20% off selected* Thomson Reuters products. Enter your exclusive promo code at checkout to obtain your discount. Browse the collection below.
We also offer package options for our online products and services to suit your needs, contact your Account Manager today to find out more.
These key resources will help you quickly find relevant, current information to assist your legal research and save time.
*terms and conditions apply
Featured Titles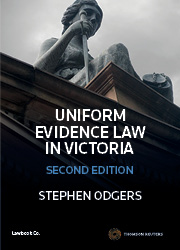 Uniform Evidence Law in Victoria, 2e
As the most current book offering annotations and commentary customised exclusively for Victoria, this new edition is an essential resource for Victorian practitioners and Courts. The Uniform Evidence Act is interpreted particularly in Victoria, making this new work vital to ensure you remain up to date with the latest legislative changes.
Book: $155.00
eBook: $155.00*
eBook/ Book Bundle: $201.50*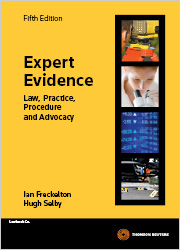 Expert Evidence: Law, Practice, Procedure and Advocacy, 5th Edition
The only Australian book that offers in-depth analysis of the use of expert witnesses in litigation. This portable go-to courtroom guide has been cited by superior courts in every jurisdiction in Australian and New Zealand.
Book: $190.00
eBook: $190.00
eBook/Book Bundle: $247.01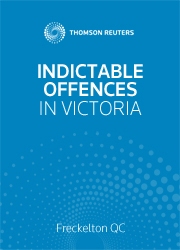 Indictable Offences in Victoria
Acting for the defence or the prosecution, Indictable Offences in Victoria provides immediate offence and principle-based guidance, updated throughout the year. Gain immediate access to a "check sheet" for most Victorian indictable offences. Take your investigations further via links with criminal law databases on Westlaw AU, including Criminal Law Investigation and Procedure Victoria.




Vic Bar Essentials

BAR New & Forthcoming

Browse all titles
Bar Bestselling Books

Browse more legal books
Westlaw AU, the latest evolution in legal research
Flexible research options and personalised settings
Fully supported by local customer support team
First online service in Australia to offer Pay-Per-View
Request a Free Trial
* Terms and conditions
Offer valid for the first year of online subscription and price is for a single annual subscription for firms or businesses with one practitioner only.  Offer not valid in conjunction with any other discount or offer. 
Not valid in conjunction with any other discount or offer. Prices cannot be applied retrospectively. Discount applies to all copies purchased regardless of quantity.
Unless otherwise stated, discounts are available until further notice on renewals provided that you continue to be a member of the Victorian Bar Association.
If you do not enter your promotional code during checkout you will not receive your discount. Thomson Reuters takes no responsibility for incorrectly entered purchases.
Please take particular note of the following terms included in the Conditions of Sale:
30-day money back guarantee: All Thomson Reuters products are covered by a 30-day money-back guarantee. If for any reason you're not totally satisfied you can return the product within 30 days for a full refund, including postage.
Prices are subject to change without notice unless specified for a fixed period. Prices are valid for sales in Australia only. Accounts must be opened for all subscription orders. Subscribers must provide the publisher with written notice of cancellation within thirty days of the date of their subscription invoice or the subscriber will be liable for the invoiced amount.

Bookshop
Ground Level, 565 Bourke Street,
Melbourne VIC 3000
Entry via Church Street
View larger map