Celebrating 10 years since the commencement of
the NSW Civil Procedure Act 2005 (NSW) and the Uniform Civil Procedure Rules 2005,
New South Wales Civil Procedure
brings you all the information you require for practice in the NSW Supreme, District and Local Courts.

Cut through the clutter
NSW Civil Procedure responds quickly and helpfully to significant cases and practice developments. It is the perfect companion for practitioners who value speed and ease of use in court – a simple, succinct guide to practice in the Local, District and Supreme Courts.

Authors in the know
As key members of the Civil Procedure Working Party, the Hon John P Hamilton QC, the Hon Justice Geoff Lindsay and Carol Webster SC bring a wealth of experience to the service.

Clear as day
The style of annotations make the legislation easy to understand. Broken down elementally, a single reading is all it takes to learn how each provision operates and how it has been applied by the Courts.
Convenience at your fingertips
Online with
Westlaw AU
Use NSW Civil Procedure Online for rapid research, with integrated access (subject to separate subscription) to FirstPoint and leading authorised reports including the New South Wales Law Reports, Commonwealth Law Reports and Federal Court Reports for complete case research.
Need a sneak peak before you trial?
View our online snapshots below:
Print-like edition with
ProView eSub
Add the ProView eSub version to have the print-like edition at hand, whether or not you're connected to the internet, and without the burden of filing and carrying around looseleaf binders.
Looseleaf

- 2 Volume

Volume 1 - Take to Court volume contains the annotated Rules, core legislation and Practice Notes for Supreme, District and Local Court use.

Volume 2 - Essential research materials including the Supreme and District Court rules and related legislation.
Why NSW Civil Procedure?
NSW Civil Procedure delivers faster and superior guidance
Don't waste time in court.
With NSW Civil Procedure you have annotations that focus on cases that are relevant in court now - not historical decisions.
The General Editors focus on taut well-written and current commentary that helps practitioners.
NSW Civil Procedure works wherever you need it
Take to Court the key legislation, with expert annotations, and Supreme/ District/ Local Court Practice Notes, for easy use when points arise.
Volume 1 of the looseleaf service is everything you need in court.
Or choose to take your tablet or laptop computer to court, and have the same content available without carrying a binder.
Stay up to date with NSW Civil Procedure
The General Editors, authors, and Thomson Reuters are all committed to providing a service that will continue to evolve as practice develops.
Keep up to date with new amendments and legislation and be confident that our expert commentary will give you the answers you need, fast.
Table of contents
Civil Procedure
Civil Procedure Act 2005 (annotated)
Uniform Civil Procedure Rules 2005 (annotated)
Delegation to registrars - Local, District and Supreme
Practice Notes - Local, District and Supreme
Courts
Supreme Court Act 1970 (annotated)
Supreme Court Rules 1970 (annotated)
Supreme Court (Corprations) Rules 1999 (annotated)
District Court Act 1973 (annotated)
District Court Rules1973 (annotated)
Comparative Tables
Evidence
Evidence Act 1995
Evidence Regulation 2010
Evidence (Audio and Audio Visual Links) Act 1998
Evidence (Audio and Audio Visial Links) Regulation 2010
Evidence on Commision Act 1995
Local Court Act 2007 (extracts) (unannotated)
Local Court Rules 2009 (extracts) (unannotated)

Download the Table of Contents
Other Civil Procedure Essentials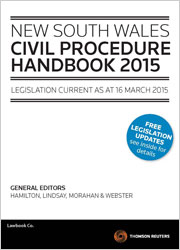 The handbook of choice for Judges in all NSW Courts
Features of the 2016 edition:
Portability
Currency to 18 March 2016
Essential content selected for relevance, including annotated Civil Procedure Act, Regulation and Rules
Annotations informed by practice
Ease of navigation
Book
$199
Publishing in May 2016
Order Now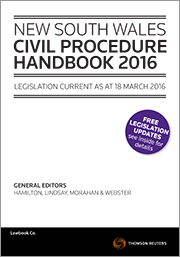 NSW Civil Procedure Handbook 2016