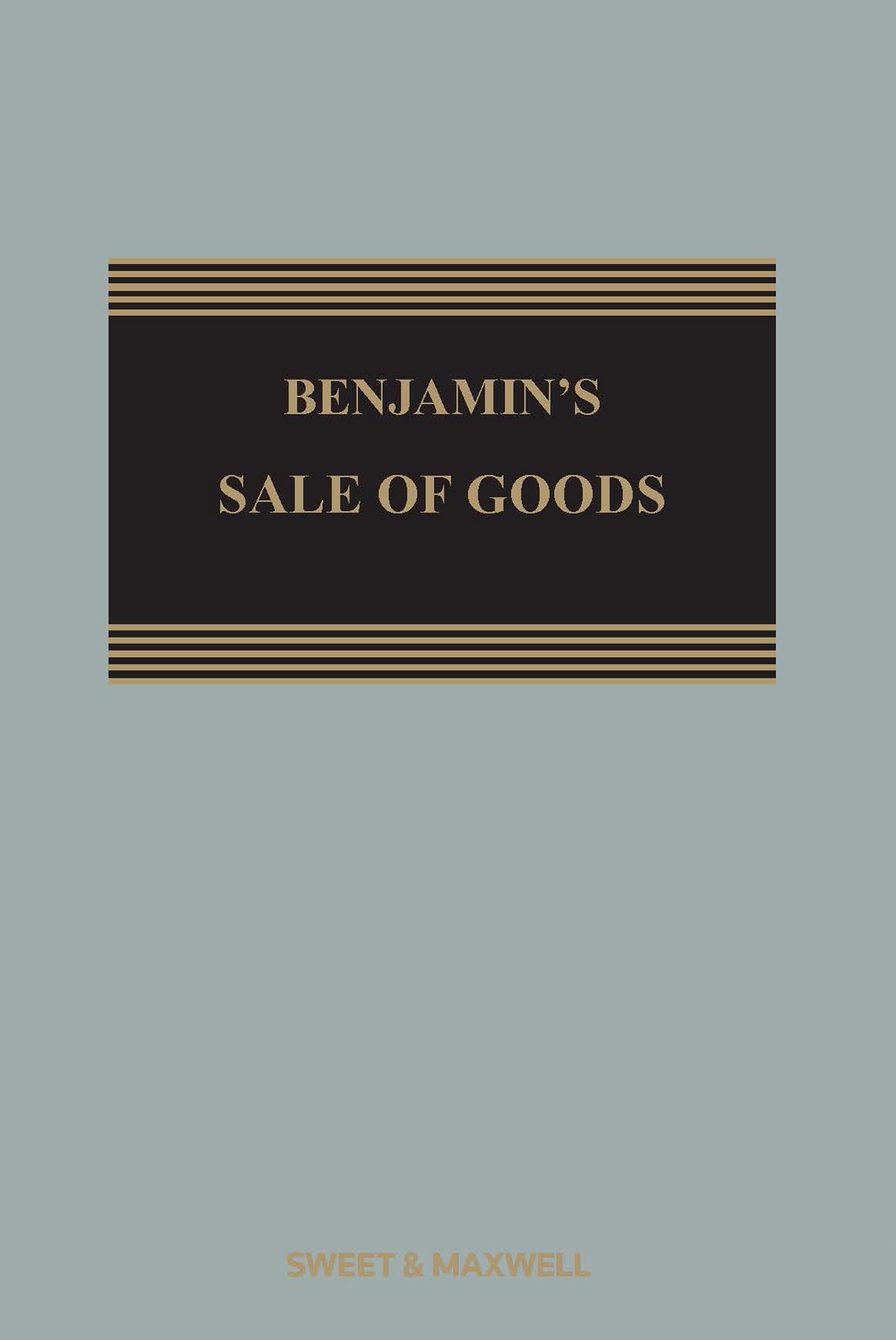 Benjamin's Sale of Goods 11th Edition
Book

Date: 14/12/2020

Code: 9780414080225

Sweet & Maxwell, UNITED KINGDOM

Benjamin's Sale of Goods 11th Edition
Description
Benjamin's Sale of Goods provides comprehensive coverage of case law and legislation regarding sale of goods in the UK and globally. First published in 1868, this title is a must-have purchase for commercial practitioners, academics
and barristers.
Part of the Common Law Library, this title has established itself as the premier publication on sale of goods and is frequently cited in court for its depth and coverage.
Frequently cited in court, its depth and coverage make Benjamin an essential reference tool in your commercial law library.
For this edition, key new legislation and case law covered includes:
European Union (Withdrawal Agreement) Act 2020

Corporate Insolvency and Governance Act 2020

Consumer Protection (enforcement) (Amendment etc) Regulations 2019

AA v Persons Unknown (crypto-assets)
Natixis SA v Marex Financial (warehouse receipts)
JSC Antipinsky Refinery (property interests)
Wilson v Beko plc and Al-Iqra v DSG Retail Ltd (product liability)
Lintner v UniCredit Bank Hungary Zrt (consumer legislation and national courts)
Morris-Garner v One Step (Support) Ltd (negotiating damages)
Priyanka Shipping Ltd v Glory Bulk Carriers Ltd (injunctions)
Wilmar Trading Pte Ltd v Heroic Warrier Inc (The Bum Chin) (actions against carriers)
Mitsubishi Corp v Kyen Resources Pte Ltd (price action)
Table of Contents
Part one Nature and formation of the Contract of Sale
- The contract of sale of goods
- Formation of the contract
- Application of general contractual principles
Part two Property and risk
- The title of the seller
- Passing of property
- Risk and frustration
- Transfer of title by non-owners
Part three Performance of the contract
- Delivery
- Acceptance and payment
Part four Defective goods
- Classification of statements as to goods
- Terms as to description and quality implied by the sale of goods act
- Remedies in respect of defects
- Exemption clauses
Part five Consumer protection
- Consumer protection
Part six Remedies
- The seller's remedies affecting the goods
- Other remedies of the seller
- The remedies of the buyer
Part seven Overseas sales
- Overseas sales in general
- CIF contracts
- FOB contracts
- Other special terms and provisions in overseas sales
- Negotiable instruments in overseas sales
- Documentary credits
- Autonomous guarantees
- Export credit guarantees
Part Eight Conflict of laws
- Conflict of laws
Appendix
- The Sale of Goods Act 1979