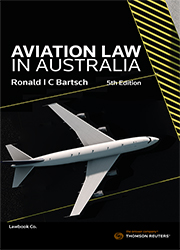 Aviation Law in Australia 5e book+ebook
Book+eBook

Date: 18/12/2018

Code: 42160466

Lawbook Co., AUSTRALIA

Aviation Law in Australia 5e book+ebook
Description
Aviation, as global industry, has an international context across all technical and operational disciplines. Accordingly, the aviation is more affected and influenced by interantional events than any other sector of the economy.
The constant challenge for any aviation legal publication is to make certain that the international context is explained while at the same time ensuring the reader is fully informed of the significance and application of these changes within the local aviation environment. each area of the law is clearly explained in accessible language and supported with practical case studies to illustrate the application of the law within an operational aviation context.
Table of Contents
1. The Development of Aviation Law
2. The Australian Legal System
3. The Regulation of Aviation
4. Contract Law
5. Negligence and Other Torts
6. Employment and Industrial Law
7. Administrative Law
8. Criminal Law
9. Commercial and Competition Law
10. Carriage by Air
11. Aviation Insurance Law
12. Airline Operations
13. Airport Operations
14. Air Traffic Management
15. Aviation Security
16. Safety Management
17. Aircraft Accident Investigation
18. Damage by Aircraft
19. Environmental Law
20. Military Aviation Law
21. Remotely Piloted Aircraft Systems
22. Space Law
23. Aviation Organisations
*
eBooks and packages including an eBook may not be returned once the software key has been supplied. Your rights as a customer to access and use the ProView™ software and a ProView eBook are subject to acceptance of the ProView content licence agreement.
NB
An email with a registration key and instructions for accessing your eBook will be sent after checkout. For existing ProView users the eBook will appear in your library after checkout.
Forthcoming/pre-order eBooks will be available after the publication date.
The ProView app is not currently available on IPhone or Kindle. See the latest system requirements