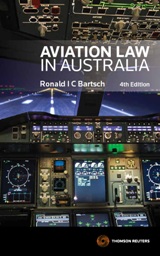 Aviation Law in Australia 4th Edition
Book

Date: 20/12/2012

Code: 9780455230726

Thomson Reuters, AUSTRALIA

Aviation Law in Australia 4th Edition
Description
In the aftermath of the Global Financial Crisis a unique combination of economic, political, social and environmental events has plunged the aviation industry headlong into one of its most tumultuous periods in recent history. Consistent with the fundamental nature of the aviation industry, each of these challenges has a corresponding, and equally unique, legal component.
Aviation, as a global industry, has an international context across all technical and operational disciplines. Accordingly, the aviation industry is more affected and influenced by recent international events than any other sector of the economy. During this time the pace at which aviation law has developed has been commensurate with the rate of increase in regulatory and legislative control imposed upon aviation activities throughout the world.
The constant challenge for any aviation legal publication is to make certain that the international context is explained while at the same time ensuring the reader is fully informed of the significance and application of these changes within the local aviation environment. Each area of the law is clearly explained in accessible language and supported with practical case studies to illustrate the application of the law within an operational aviation context.
In Australia, the dynamics and volatility of the domestic aviation sector acquire its own unique challenges. The fourth edition of Aviation Law in Australia has been thoroughly revised and updates the final phase of the implementation of a 'new' regulatory regime that has been two decades in the making. Contemporary issues including the carbon tax, the Qantas grounding, and increased competition domestically between Virgin Australia, Tiger Airways and Jetstar are all covered. This edition also has two new chapters – one on military aviation law and the other covering space law. Both these topics are becoming an increasingly important aspect of aviation law.
You Might Also Like
Editorial Reviews
"Working in the aviation industry necessarily requires a good understanding of the law and its applications. Bartsch explains clearly, and with practical case studies, aviation law as it applies across the entire industry. I thoroughly recommend this book to anyone who works in the aviation industry." - Captain Bruce Simpson, Senior Check Captain (A380), Qantas Airways Limited
Table of Contents
The Development of Aviation Law
The Australian Legal System
The Regulation of Aviation
Contract Law
Negligence and other Torts
Employment and Industrial Law
Administrative Law
Criminal Law
Commercial and Competition Law
Carriage by Air
Aviation Insurance Law
Airline Operations
Airport Operations
Air Traffic Management
Aviation Security
Safety Management
Aircraft Accident Investigation
Damage by Aircraft
Environmental Law
Military Aviation Law
Space Law
Aviation Organisations