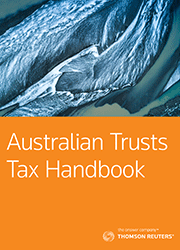 Australian Trusts Tax Handbook
Online

Date: 19/12/2011

Code: 41528331

Thomson Reuters, AUSTRALIA

Enquiry Sent

A member of our support team will be in touch with you within 1 business day.

Sales Enquiry Form

Australian Trusts Tax Handbook

For questions about how to use this product or to get help with your account please visit the Help Centre or Contact Support directly.
Description
The Australian Trusts Tax Handbook is a practical guide to the rules relating to the taxation of trusts to assist accountants and tax practitioners when dealing with this common but complex topic.
The Handbook outlines the relevant trust law concepts – particularly the importance of the trust deed – that play a key role when determining the tax position of the trustee and beneficiaries.
Current to 30 June of each year, the Australian Trusts Tax Handbook is streamlined to meet the needs of practitioners and advisers and brings together all the key trust tax provisions and concepts into the one publication with easy access to a number of trust deed clauses and plain English explanations, supported by numerous examples, tips, and warnings. There are also definitional tables and step-by-step guides to calculating the income and net income of a trust, streaming capital gains and franked distributions, making effective trust distributions and drafting distribution minutes.
Australian Trusts Tax Handbook includes new commentary on all key developments that have arisen in each income year period, as well as updated commentary and cases.
The Handbook also includes detailed commentary on small business CGT relief, the impact of Division 7A on trusts (particularly in relation to unpaid present entitlements) and the application of the anti-avoidance rules to trust arrangements.
The online version also includes the Trusts Tax Bulletin.
Table of Contents
Key trust concepts
The importance of the trust deed
Taxation of trust income - Div 6
Streaming of trust income
Trusts and capital gains tax
Trust-related deductions
Trust losses
Trusts and small business relief
Primary producer concessions for beneficiaries
Anti-avoidance rules
Trusts and deemed dividends - Div 7A
Closely held trusts
Unearned income of children
Administration, tax returns, tax rates
Rates of tax
Review of trust tax provisions
State and territory taxes