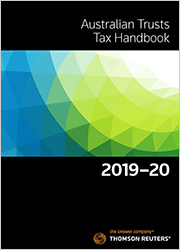 Australian Trusts Tax Handbook 2019-20
Book

$76.40* $191.00 RRP Save: $114.60 (60%)

Date: 13/08/2019

Code: 9780864697967

Thomson Reuters, AUSTRALIA

Australian Trusts Tax Handbook 2019-20

Sale Price:

$76.40

Saving: $114.60
Description
The Australian Trusts Tax Handbook 2019-20 is a practical guide to the rules relating to the taxation of trusts.
Current to 30 June 2019, it is streamlined to meet the needs of practitioners and students, with plain English explanations, definitions, examples, case studies, sample trust deed clauses, tips and alerts.
There are also step-by-step guides to calculating the income and net income of a trust, streaming capital gains and franked distributions, making effective trust distributions and drafting distribution minutes.
What's New in the Australian Trusts Tax Handbook 2019-20
There is a new chapter on the CGT small business concessions, including commentary on the recent amendments to the basic conditions applying to trust interests and shares (chapter 9).
The commentary has also been updated for legislative changes and other new developments in the taxation of trusts, including:
an important ATO ruling on trust vesting
the High Court decision in FCT v Thomas & Ors [2018] HCA 31, a test case on franking credits and trust income
an ATO draft determination on trust split arrangements
new cases on deductions
an ATO determination on how the Div 7A interposed entity rules apply to ordinary commercial transactions
Table of Contents
Key trust concepts
The importance of the trust deed
Taxation of trust income - Div 6
Streaming of trust income
Trusts and capital gains tax
Trust-related deductions
Trust losses
Trusts and small business relief
Primary producer concessions for beneficiaries
Anti-avoidance rules
Trusts and deemed dividends - Div 7A
Closely held trusts
Unearned income of children
Administration, tax returns, tax rates
Rates of tax
Review of trust tax provisions
State and territory taxes
Carry out trust distributions with total confidence
The Annual Trust Distributions Workflow is an interactive workflow that breaks down the process of how to make trust distributions into easy to understand steps, and includes extensive explanatory commentary and sample resolution templates.
The Workflow also includes the Annual Trust Distributions Calculator, which allows you to perform 'what if' scenarios to determine the nature and quantum of distributions to allocate to each beneficiary.