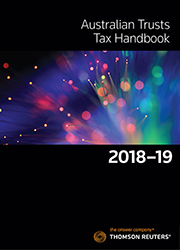 Australian Trusts Tax Handbook 2018-19 eBook
eBook - ProView

Date: 26/07/2018

Code: 9780864698360

Thomson Reuters, AUSTRALIA

Australian Trusts Tax Handbook 2018-19 eBook
Description
The Australian Trusts Tax Handbook 2018-19 is a practical guide to the rules relating to the taxation of trusts.
Current to 30 June 2018, it is streamlined to meet the needs of practitioners and advisers and brings together all the key trust tax provisions and concepts into the one publication, with plain English explanations, definitions, examples, case studies, sample trust deed clauses, tips and alerts.
There are also step-by-step guides to calculating the income and net income of a trust, streaming capital gains and franked distributions, making effective trust distributions and drafting distribution minutes.
The Handbook also includes detailed commentary on small business CGT relief, the impact of Division 7A on trusts (particularly in relation to unpaid present entitlements) and the application of the anti-avoidance rules to trust arrangements.
What's New
There is new commentary on:
trust vesting;
the residency status of trust estates;
the Commissioner's discretion to treat an interest in the income or capital of a trust as a fixed entitlement;
family trust distribution tax and distributions to non-beneficiaries; and
a range of proposed tax measures affecting trusts.
The commentary has also been updated for new ATO rulings and guidance, and for important court decisions concerning trusts, including:
an ATO draft ruling on employee benefit trusts;
ATO determinations that treat capital gains in respect of non-taxable Australian property as ordinary income if amounts attributable to the gains are distributed to Australian beneficiaries;
the suspension of the ATO's guidelines on allocating profits within professional firms;
ATO guidelines for trustees whose UPE sub-trust arrangements mature in the 2017-18 income year;
an ATO draft determination on the application of the Div 7A interposed entity rules to ordinary commercial transactions;
federal, state and territory tax rates; and
Whitby Land Company Pty Ltd (Trustee) v DCT [2017] FCA 28 on alternative assessments, Chief Comr of State Revenue v Smeaton Grange Holdings Pty Ltd [2017] NSWCA 184 and Lewski v FCT [2017] FCAFC 145 on trust disclaimers, Re Moignard and FCT [2017] AATA 1661 on present entitlement, and Ellison v Sandini Pty Ltd [2018] FCAFC 44 on CGT event A1 and changes in beneficial ownership.
Australian Trusts Tax Handbook is available on Thomson Reuters' Checkpoint online platform (updated in June and November each year).
Table of Contents
Key trust concepts
The importance of the trust deed
Taxation of trust income - Div 6
Streaming of trust income
Trusts and capital gains tax
Trust-related deductions
Trust losses
Trusts and small business relief
Primary producer concessions for beneficiaries
Anti-avoidance rules
Trusts and deemed dividends - Div 7A
Closely held trusts
Unearned income of children
Administration, tax returns, tax rates
Rates of tax
Review of trust tax provisions
State and territory taxes
*
eBooks and packages including an eBook may not be returned once the software key has been supplied. Your rights as a customer to access and use the ProView™ software and a ProView eBook are subject to acceptance of the ProView content licence agreement.
NB
An email with a registration key and instructions for accessing your eBook will be sent after checkout. For existing ProView users the eBook will appear in your library after checkout.

Forthcoming/pre-order eBooks will be available after the publication date.

The ProView app is not currently available on Kindle. See the latest system requirements
Carry out trust distributions with total confidence
The Annual Trust Distributions Workflow is an interactive workflow that breaks down the process of how to make trust distributions into easy to understand steps, and includes extensive explanatory commentary and sample resolution templates.
The Workflow also includes the Annual Trust Distributions Calculator, which allows you to perform 'what if' scenarios to determine the nature and quantum of distributions to allocate to each beneficiary.