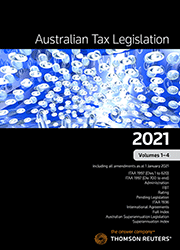 Australian Tax Legislation 2021 Volumes 1-4
Book

$415.35* $461.49 RRP Save: $46.14 (10%)

Date: 10/02/2021

Code: 9780864697592

Thomson Reuters, AUSTRALIA

Australian Tax Legislation 2021 Volumes 1-4

Sale Price:

$415.35

Saving: $46.14
Description
Australian Tax Legislation 2021 provides a comprehensive set of up-to-date income tax legislation and allows for easy navigation and speedy location of subjects of interest.
It consolidates all essential income tax and related legislation and amendments in force as at 1 January 2021 and includes history notes to aid interpretation of tax laws, all in a single package.
Set out in an easy-to-follow, logical layout, you can choose from either the 3-volume income tax legislation set, the 4-volume set which includes tax and superannuation or purchase volume 4 (superannuation) separately.
FEATURES
Concise history notes for all recent amendments to tax and related legislation
Outstanding clarity of layout and accessibility for users
Logical, convenient organisation with fully consolidated index (volume 3) and superannuation index (volume 4), and subsection headings where appropriate
Various acts including ITAA 1936 and ITAA 1997, Tax Administration Act 1953, Superannuation Industry (Supervision) Act 1993, International Tax Agreements 1953 and Australia's Double Tax Treaties
CONTENTS
VOL 1
ITAA 1997, pending legislation (if appropriate)
VOL 2
ITAA 1997, Administration, Taxation offences, FBT
VOL 3
ITAA 1936, Rating Acts, International tax agreements, financial transaction reports, overpayments and early payments, Main consolidated index
VOL 4
Superannuation: prudential supervision, taxation of superannuation, tax administration, Superannuation taxing Acts, government co-contributions, superannuation guarantee, small and lost accounts, resolution of complaints, Corporations legislation (extracts), family law (superannuation) (extracts), superannuation-related index
Australian Tax Legislation V1-4 is available in print, eBook and online.
Australian Tax Legislation V1-3 is available in print and eBook.
Features
• Concise history notes for all recent amendments to tax and related legislation
• Outstanding clarity of layout and accessibility for users
• Logical, convenient organisation with fully consolidated index (volume 3) and superannuation index (volume 4), and subsection headings where appropriate

Table of Contents
VOL 1 – ITAA 1997, pending legislation (if appropriate)

VOL 2 – ITAA 1997, Administration, Taxation offences, FBT

VOL 3 – ITAA 1936, Rating Acts, International tax agreements, financial transaction reports, overpayments and early payments, Main consolidated index
VOL 4 – Superannuation: prudential supervision, taxation of superannuation, tax administration, Superannuation taxing Acts, government co-contributions, superannuation guarantee, small and lost accounts, resolution of complaints, Corporations legislation (extracts), family law (superannuation) (extracts), superannuation-related index