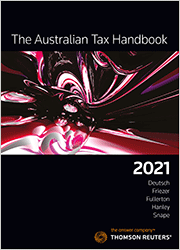 Australian Tax Handbook
Online

Date:

Code: 41167601

Thomson Reuters, AUSTRALIA

Enquiry Sent

A member of our support team will be in touch with you within 1 business day.

Sales Enquiry Form

Australian Tax Handbook

For questions about how to use this product or to get help with your account please visit the Help Centre or Contact Support directly.
Description
The Australian Tax Handbook online edition is a comprehensive resource covering the full spectrum of income tax law, related taxes and tax reform. Our online service provides you with a complete picture of the Australian tax system, enabling you to locate answers to your questions fast.
The Australian Tax Handbook online is presented in a concise, easy-to-navigate format and features clear overviews, explanations and worked examples to make the tax system easier to understand and apply in practice.
Featuring greater depth of content, fresh commentary and improved checklists and examples, this online edition provides you with better links and cross-referencing to other Thomson Reuters tax products. The Australian Tax Handbook's strength in providing greater depth of coverage ensures it remains the premier online tax research product available in today's market.
As part of your online subscription to The Australian Tax Handbook online edition, you will receive quarterly updates throughout the year to ensure you stay up-to-date with the ever-changing tax landscape.
Table of Contents
Year in Review
Australian tax system
Income
Deductions
Capital Gains Tax
Entities
Special Classes of Taxpayers
Financial Arrangements
International Taxation
Superannuation
Anti-avoidance Provisions
Rulings, returns, assessments, objections and audits
Collection, Recovery and Audits
Other Administration
Fringe Benefits Tax
Other Taxes
Tax Planning
Tables and Ready reckoners
Cases Table
Rulings Table
Index