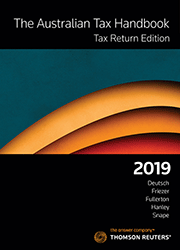 Australian Tax Handbook Tax Return Edition 2019 Book + eBook
Book+eBook

Date: 30/08/2019

Code: 42651792

Thomson Reuters, AUSTRALIA

Australian Tax Handbook Tax Return Edition 2019 Book + eBook
Description
The Australian Tax Handbook Tax Return Edition 2019 helps you reach the answers you need – fast.
Perfectly timed for the mid-year tax return period, The Australian Tax Handbook Tax Return Edition 2019 covers the wide spectrum of Australian income tax law plus ralated taxes such as FBT and GST.

Whether you are a professional in a large organisation or small firm, or a student coming to grips with the Australian tax system, you will benefit from the Handbook's clear overviews, practical analysis and related examples by expert practitioner authors. Handy tables of rates, calendars and checklists reduce the time you need to spend on keeping track of changing detail.

What's New in The Australian Tax Handbook Tax Return Edition 2019
Small business - instant asset write-off threshold increased to $30,000 and extended for 12 months
Residency - significant Full Fed Court case on the meaning of permanent place of abode
Director penalty provisions to be extended to cover GST, LCT and WET
Company losses - similar business test for using losses now law
Single Touch Payroll reporting is to be extended to all employers from 1 July 2019
Included are all key tax developments to 30 June 2019, including announcements in the 2019 Federal Budget. The content is highly relevant, easy to access and practical.
Table of Contents
Year in Review
Australian tax system
Income
Deductions
Capital Gains Tax
Entities
Special Classes of Taxpayers
Financial Arrangements
International Taxation
Superannuation
Anti-avoidance Provisions
Rulings, returns, assessments, objections and audits
Collection, Recovery and Audits
Other Administration
Fringe Benefits Tax
Other Taxes
Tax Planning
Tables and Ready reckoners
Cases Table
Rulings Table
Index
*
eBooks and packages including an eBook may not be returned once the software key has been supplied. Your rights as a customer to access and use the ProView™ software and a ProView eBook are subject to acceptance of the ProView content licence agreement.
NB
An email with a registration key and instructions for accessing your eBook will be sent after checkout. For existing ProView users the eBook will appear in your library after checkout.

Forthcoming/pre-order eBooks will be available after the publication date.

The ProView app is not currently available on Kindle. See the latest system requirements