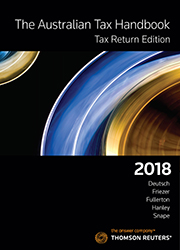 Australian Tax Handbook Tax Return Edition 2018
Book

Date: 24/08/2018

Code: 9780864698438

Thomson Reuters, AUSTRALIA

Australian Tax Handbook Tax Return Edition 2018
Description
The Australian Tax Handbook Tax Return Edition 2018 helps you reach the answers you need – fast.
Perfectly timed for the mid-year tax return period, The Australian Tax Handbook Tax Return Edition 2018 covers the wide spectrum of Australian income tax law plus related taxes such as FBT and GST.
Whether you are a professional in a large organisation or small firm, or a student coming to grips with the Australian tax system, you will benefit from the Handbook's clear overviews, practical analysis and related examples by expert practitioner authors. Handy tables of rates, calendars and checklists reduce the time you need to spend on keeping track of changing detail.
What's New for 2018
Modifications to the rules governing whether shares or trust interests qualify as active assets for the purposes of the small business CGT concessions.
Budget measures including:

The proposed 12-month extension (to 30 June 2019) of the current instant asset write-off ($20,000 threshold) for small business entities (aggregated turnover less than $10m).
The proposed restriction on a partner utilising the small business CGT concessions where rights to the future income of a partnership are assigned.
The new low- and middle-income tax offset.
The proposed extension to family trusts of the trustee beneficiary disclosure rules for closely held trusts.

A Full Federal Court decision that marriage breakdown CGT roll-over relief is not available where a CGT asset is transferred to a third party at the direction of the relevant spouse (or former spouse).
This is the 75th print edition of the Handbook. It includes all key tax developments to 30 June 2018, including announcements in the 2018 Federal Budget. The content is highly relevant, easy to access and practical.
Table of Contents
Year in Review
Australian tax system
Income
Deductions
Capital Gains Tax
Entities
Special Classes of Taxpayers
Financial Arrangements
International Taxation
Superannuation
Anti-avoidance Provisions
Rulings, returns, assessments, objections and audits
Collection, Recovery and Audits
Other Administration
Fringe Benefits Tax
Other Taxes
Tax Planning
Tables and Ready reckoners
Cases Table
Rulings Table
Index