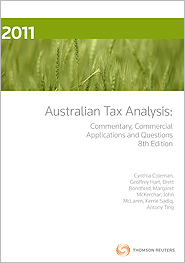 Australian Tax Analysis 9e ebook
eBook - ProView

Date: 20/12/2012

Code: 9780455240329

Lawbook Co., AUSTRALIA

Australian Tax Analysis 9e ebook
Description
Now in its eighth edition, Australian Tax Analysis: Cases, Commentary, Commercial Applications and Questions has a proven track record as a high level work for students of taxation law written by a team of authors with many years of experience.

Taking into account the fact that the volume of material needed to be processed by today's taxation student can be overwhelming, the well-chosen extracts and thought-provoking commentary in Australian Tax Analysis, 8th edition, provide readers with the depth of knowledge, and reasoning and analytical skills that will be required of them as practitioners.

As well as the carefully selected case extracts and the helpful commentary, each chapter is supplemented by engaging practice questions, involving problem-solving, commercial decision-making, legal analysis and quantitative application. All these elements combined make Australian Tax Analysis an invaluable aid to the understanding of a subject that can be both technical and complex.

Table of Contents
1 Overview of the Australian Tax System
2 Residence and Source
3 Nature of Income; Income from Labour
4 Fringe Benefits Tax
5 Income from Business
6 Income from Property
7 Compensation Principle and Periodic Receipts
8 Capital Gains Tax and Alienation
9 Allowable Deductions - General Principles/Provisions
10 Allowable Deductions - Specific Provisions
11 Capital Allowances
12 Offsets
13 Tax Accounting
14 Trading Stock
15 Taxation of Partnerships
16 Taxation of Trusts
17 Taxation of Companies and Shareholders
18 International Taxation
19 Avoidance of Tax
20 Tax Administration
21 Goods and Services Tax
22 Superannuation and Employer Responsibilities
Resource Downloads
Instructor Supplements
Please note: these resources are ONLY for the use of lecturers who have prescribed the relevant text. Please email tlrap.academic@thomson.com to request access.
*
eBooks and packages including an eBook may not be returned once the software key has been supplied. Your rights as a customer to access and use the ProView™ software and a ProView eBook are subject to acceptance of the ProView content licence agreement.
NB
An email with a registration key and instructions for accessing your eBook will be sent after checkout. For existing ProView users the eBook will appear in your library after checkout.

Forthcoming/pre-order eBooks will be available after the publication date.

The ProView app is not currently available on Kindle. See the latest system requirements