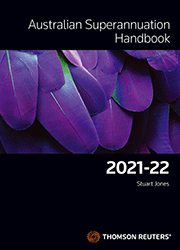 Australian Superannuation Handbook 2021 - 2022
Book

New Release, 04/08/2021

Code: 9780864697363

Thomson Reuters, AUSTRALIA

Australian Superannuation Handbook 2021 - 2022
Description
Australian Superannuation Handbook 2021-22
Despite ongoing reforms, superannuation remains a tax effective investment structure to achieve wealth creation and retirement objectives.
To guide clients through the maze of tax, superannuation and social security provisions, accountants and other professional advisers need a working knowledge of the latest changes.
Current to 1 July 2021, the Australian Superannuation Handbook 2021-22 is an essential companion for tax practitioners to help comply with the latest superannuation regulatory requirements.
The superannuation contributions caps have increased from 2021-22 providing extra scope for contribution strategies. The concessional contributions cap has increased to $27,500, while the non-concessional cap is $110,000 from 2021-22 (or $330,000 under the bring-forward rule over 3 years). The total superannuation balance threshold for making non-concessional contributions has also increased to $1.7m.
Another layer of complexity has been added to the pension cap regime with the indexation of the general transfer balance cap from $1.6m to $1.7m. From 2021-22, each individual has their own personal transfer balance cap of between $1.6m and $1.7m. The superannuation guarantee regime is also back in focus with the SG rate for employers increasing to 10% for 2021-22 (up from 9.5%).
In the SMSF space, limited recourse borrowing arrangements (LRBAs) remain a compliance focus point for the Tax Office and require sophisticated planning. Superannuation trustees also face additional regulation and obligations as the Government moves to implement its Your Future, Your Super package of reforms.
What's new in Australian Superannuation Handbook 2021-22
Increased contribution caps; carry forward of unused caps
Pension transfer balance cap indexation and reporting
SMSFs – ATO compliance focus
COVID-19 measures – early release; pension drawdowns
Estate planning for death benefits – tips from recent cases
2021-22 Budget measures – SMSF residency; legacy pensions
Implementation of Royal Commission reforms
Table of Contents
• Overview
• Superannuation funds
• Self-managed superannuation funds (SMSFs)
• MySuper
• Trusts and trustees
• Taxation of superannuation
• Contributions
• Superannuation guarantee
• Choice of fund
• SIS prudential standards
• Investment rules
• Taxation of Funds
• Member benefits
• Payment of benefits
• Taxation of benefits
• Pensions and annuities
• Death and superannuation
• Family law and superannuation
• Employment termination payments
• Other termination-related payments
• Regulation of superannuation
• Financial Services Regulation – licensing
• Financial Services Regulation - disclosure
• Future of Financial Advice (FoFA)
• Complaints and dispute resolution
• Pending developments
• Rates and tables
• Index and reference aids
• Legislation Table
• Tax Office, APRA and ASIC materials