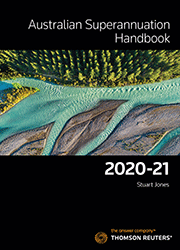 Australian Superannuation Handbook 2020-21
Book

Date: 05/08/2020

Code: 9780864697684

Thomson Reuters, AUSTRALIA

Australian Superannuation Handbook 2020-21
Description
Australian Superannuation Handbook 2020-21
Despite ongoing reforms, superannuation remains a tax effective investment structure to achieve wealth creation and retirement objectives.
To guide clients through the maze of tax, superannuation and social security provisions, accountants and other professional advisers need a working knowledge of the latest changes.
Current to 1 July 2020, the Australian Superannuation Handbook 2020-21 is an essential companion for tax practitioners to help comply with the latest superannuation regulatory requirements.
What's New in the Australian Superannuation Handbook 2020-21
Coronavirus measures – early release; pension drawdowns
Latest contribution rules; carry forward of unused caps
Pension transfer balance cap and reporting obligations
SMSF borrowings – recent changes and ATO compliance focus
Estate planning for death benefits – tips from recent cases
Ongoing implementation of Royal Commission reforms.
Table of Contents
• Overview
• Superannuation funds
• Self-managed superannuation funds (SMSFs)
• MySuper
• Trusts and trustees
• Taxation of superannuation
• Contributions
• Superannuation guarantee
• Choice of fund
• SIS prudential standards
• Investment rules
• Taxation of Funds
• Member benefits
• Payment of benefits
• Taxation of benefits
• Pensions and annuities
• Death and superannuation
• Family law and superannuation
• Employment termination payments
• Other termination-related payments
• Regulation of superannuation
• Financial Services Regulation – licensing
• Financial Services Regulation - disclosure
• Future of Financial Advice (FoFA)
• Complaints and dispute resolution
• Pending developments
• Rates and tables
• Index and reference aids
• Legislation Table
• Tax Office, APRA and ASIC materials