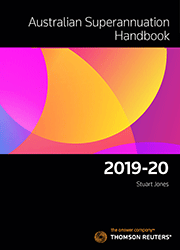 Australian Superannuation Handbook 2019-20 Book + eBook
Book+eBook

Date: 29/07/2019

Code: 42651788

Thomson Reuters, AUSTRALIA

Australian Superannuation Handbook 2019-20 Book + eBook
Description
Australian Superannuation Handbook 2019-20
The interconnected nature of tax, superannuation and social security means that accountants and other professional advisers need a working knowledge of the latest changes to guide their clients through the maze of provisions. To this end, the Australian Superannuation Handbook 2019-20 assists with making the most of superannuation as a tax-effective investment vehicle for wealth creation and retirement savings objectives.
Current to 1 July 2019, the Australian Superannuation Handbook 2019-20 is an essential companion for tax practitioners to help comply with the latest superannuation regulatory requirements.
With the 2019 Federal election out of the way, the superannuation sector is set to enjoy some policy stability for established structures and strategies. The focus now returns to planning for the range of superannuation measures previously announced by the Government.
The superannuation industry was laid bare by the Banking Royal Commission which exposed certain practices that fell short of community expectations. On a positive note, the Government has quickly begun to implement the recommendations to restore trust in the industry.
What's New in Australian Superannuation Handbook 2019-20
Reforms from the Banking Royal Commission
Navigating contribution rules and carry forward of unused caps
Pension transfer balance cap and reporting obligations
Estate planning for death benefits – tips from recent cases
SMSF borrowings – pending changes and ATO compliance focus
2019-20 Federal Budget – contributions flexibility around retirement
Table of Contents
• Overview
• Superannuation funds
• Self-managed superannuation funds (SMSFs)
• MySuper
• Trusts and trustees
• Taxation of superannuation
• Contributions
• Superannuation guarantee
• Choice of fund
• SIS prudential standards
• Investment rules
• Taxation of Funds
• Member benefits
• Payment of benefits
• Taxation of benefits
• Pensions and annuities
• Death and superannuation
• Family law and superannuation
• Employment termination payments
• Other termination-related payments
• Regulation of superannuation
• Financial Services Regulation – licensing
• Financial Services Regulation - disclosure
• Future of Financial Advice (FoFA)
• Complaints and dispute resolution
• Pending developments
• Rates and tables
• Index and reference aids
• Legislation Table
• Tax Office, APRA and ASIC materials
*
eBooks and packages including an eBook may not be returned once the software key has been supplied. Your rights as a customer to access and use the ProView™ software and a ProView eBook are subject to acceptance of the ProView content licence agreement.
NB
An email with a registration key and instructions for accessing your eBook will be sent after checkout. For existing ProView users the eBook will appear in your library after checkout.

Forthcoming/pre-order eBooks will be available after the publication date.

The ProView app is not currently available on Kindle. See the latest system requirements