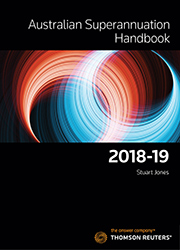 Australian Superannuation Handbook 2018-19
Book

$139.40* $164.00 RRP Save: $24.60 (15%)

Date: 02/08/2018

Code: 9780864698339

Thomson Reuters, AUSTRALIA

Australian Superannuation Handbook 2018-19

Sale Price:

$139.40

Saving: $24.60
Description
Australian Superannuation Handbook 2018-19
The superannuation industry has been reshaped by recent reforms that have added further complexity to an already complicated system. New restrictions mean that accountants and other professional advisers need a working knowledge of the latest changes to guide their clients through the maze of provisions and avoid any nasty surprises. Enhanced strategies have also emerged from the lessons learned during the first full year of the reforms, as well as government changes in response to unintended consequences.
What's New in the Australian Superannuation Handbook 2018-19?
Navigating reduced contribution caps and restrictions.
Deductions for personal contributions.
First home super saver scheme.
Downsizer contributions for retirees.
Pension transfer balance cap reporting and assessments.
Estate planning for death benefits.
SMSF borrowings – new integrity measures
2018-19 Budget measures – SMSF member limit increase, super fees, etc.
To truly understand the additional layers of complexity stemming from the reforms, it is necessary to appreciate the interconnected details of how the changes fit within the existing framework. To this end, the Australian Superannuation Handbook 2018-19 assists with making the most of superannuation as a tax-effective investment vehicle for wealth creation and retirement savings objectives.
Current to 1 July 2018, the Australian Superannuation Handbook 2018-19 is an essential companion for tax practitioners to help comply with the latest superannuation regulatory requirements.
Table of Contents
• Overview
• Superannuation funds
• Self-managed superannuation funds (SMSFs)
• MySuper
• Trusts and trustees
• Taxation of superannuation
• Contributions
• Superannuation guarantee
• Choice of fund
• SIS prudential standards
• Investment rules
• Taxation of Funds
• Member benefits
• Payment of benefits
• Taxation of benefits
• Pensions and annuities
• Death and superannuation
• Family law and superannuation
• Employment termination payments
• Other termination-related payments
• Regulation of superannuation
• Financial Services Regulation – licensing
• Financial Services Regulation - disclosure
• Future of Financial Advice (FoFA)
• Complaints and dispute resolution
• Pending developments
• Rates and tables
• Index and reference aids
• Legislation Table
• Tax Office, APRA and ASIC materials