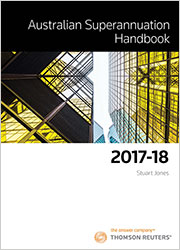 Australian Superannuation Handbook 2017-18 Book+eBook
Book+eBook

$106.00* $212.00* RRP Save: $106.00 (50%)

Date: 28/07/2017

Code: 42117343

Thomson Reuters, AUSTRALIA

Australian Superannuation Handbook 2017-18 Book+eBook

Sale Price:

$106.00

Saving: $106.00
Description
Major reforms have reshaped the superannuation landscape from 1 July 2017. New restrictions mean that accountants and other professional advisers need a working knowledge of the reforms to guide their clients through the maze of changes and avoid any nasty surprises.
What's New
Pension transfer balance cap of $1.6 million
Reduced contribution caps
Non-concessional contributions subject to $1.6 million balance limit
Deductions for personal contributions
Transition to retirement pension changes
Defined benefit pensions – special rules and additional income tax
SMSF related-party borrowings – new integrity measures
2017-18 Budget measures – first home buyers and downsizing contributions
To truly understand the additional layers of complexity stemming from the reforms, it is necessary to appreciate the interconnected details of how the changes fit within the existing framework. To this end, the Australian Superannuation Handbook 2017-18 assists with making the most of superannuation as a tax-effective investment vehicle for wealth creation and retirement savings objectives.
Current to 1 July 2017, the Australian Superannuation Handbook 2017-18 is an essential companion for tax practitioners to help comply with the latest superannuation regulatory requirements.
Table of Contents
• Overview
• Superannuation funds
• Self-managed superannuation funds (SMSFs)
• MySuper
• Trusts and trustees
• Taxation of superannuation
• Contributions
• Superannuation guarantee
• Choice of fund
• SIS prudential standards
• Investment rules
• Taxation of Funds
• Member benefits
• Payment of benefits
• Taxation of benefits
• Pensions and annuities
• Death and superannuation
• Family law and superannuation
• Employment termination payments
• Other termination-related payments
• Regulation of superannuation
• Financial Services Regulation – licensing
• Financial Services Regulation - disclosure
• Future of Financial Advice (FoFA)
• Complaints and dispute resolution
• Pending developments
• Rates and tables
• Index and reference aids
• Legislation Table
• Tax Office, APRA and ASIC materials
*
eBooks and packages including an eBook may not be returned once the software key has been supplied. Your rights as a customer to access and use the ProView™ software and a ProView eBook are subject to acceptance of the ProView content licence agreement.
NB
An email with a registration key and instructions for accessing your eBook will be sent after checkout. For existing ProView users the eBook will appear in your library after checkout.

Forthcoming/pre-order eBooks will be available after the publication date.

The ProView app is not currently available on IPhone or Kindle. See the latest system requirements