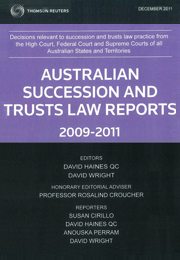 Australian Succession & Trusts Law Reports
Online

Date: 03/07/2009

Code: 41167084

Lawbook Co., AUSTRALIA

Enquiry Sent

A member of our support team will be in touch with you within 1 business day.

Sales Enquiry Form

Australian Succession & Trusts Law Reports

For questions about how to use this product or to get help with your account please visit the Help Centre or Contact Support directly.
Description
Editors: David Wright and Professor Prue Vines
Honorary Editorial Adviser: Professor Rosalind Croucher
Australian Succession and Trusts Law Reports (ASTLR) is Australia's only law report series meeting the specialised needs of succession and trusts lawyers with convenient and centralised reporting of the most recent and relevant decisions of the State Supreme Courts, the Federal Court and the High Court.
Cross-jurisdictional coverage increasingly meets the needs of practitioners as they encounter more frequent instances of estates with assets located in multiple Australian jurisdictions. This trend is strengthened by State and Territory parliaments gradually moving towards uniform succession laws covering wills, intestacy, family provision and probate and administration. ASTLR helps:
Extend your research by conveniently accessing relevant decisions from all Australian jurisdictions
Save time and research effort with concise headnote précis
Reduce risk with editor's comments placing each case in practice context, identifying potential issues for day to day practice
Read decisions which may not be reported elsewhere and which may also refer to cases otherwise difficult to find
ASTLR is available in print and online formats. Online, ASTLR offers:
superior browsing and searching, and consolidated hit lists with aggregated case information;
simple interface and integration with other online subscription services, including FirstPoint and other law reports (subject to separate subscriptions);
research trails, tagged items, email delivery and RSS feeds; and
persistent deep-linking capacity.