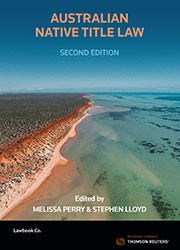 Australian Native Title Law 2nd Edition - eBook
eBook - ProView

$119.60* $299.00* RRP Save: $179.40 (60%)

Date: 04/03/2018

Code: 9780455500591

Lawbook Co., AUSTRALIA

Australian Native Title Law 2nd Edition - eBook

Sale Price:

$119.60

Saving: $179.40
Description
Australian Native Title Law Second Edition annotates the Native Title Act 1993 (Cth) and analyses the common law principles applicable to native title. It explains the essential concepts and principles which underpin it, including relevant principles of constitutional, property and discrimination law, referencing a range of relevant authority and materials.
The First Edition published in 2004 and was comprised of introductory explanatory chapters followed by a detailed annotation to the Native Title Act 1993 (Cth) and extensive reforms made in 1998 in light of the Wik decision. Since that time, some 27 amending Acts have come into force.
The much-awaited Second Edition builds upon these foundations by bringing the Act up-to-date and providing detailed commentary on the more important of these amendments, in particular the Native Title Amendment Act 2007, the Native Title Amendment (Technical Amendments) Act 2007 and the Native Title Amendment Act 2009.
The book now draws upon over 1,000 cases, including leading recent High Court decisions such as Queensland v Congoo (2015), Western Australia v Brown (2014), Karpany v Dietman (2013), and Akiba v Commonwealth (2013).
Significant contributions from leading practitioners in the field are included, with a new section addressing proof of native title.
Both new and experienced practitioners, decisions-makers, academics and students alike will find Australian Native Title Law Second Edition of invaluable assistance.
Table of Contents
Foreword to First Edition
Preface to the Second Edition and User's Guide to Australian Native Title Law
About the Authors
Acknowledgments
Glossary
Table of Cases
Table of Statutes
NATIVE TITLE: ESSENTIAL PRINCIPLES AND CONCEPTS
Introduction
Chapter 1: Recognition of Native Title
Chapter 2: Past acts, intermediate period acts and future acts
Chapter 3: Extinguishment of Native Title
Chapter 4: Proof of Native Title
THE ANNOTATED NATIVE TITLE ACT
Table of Provisions
Table of Amending Legislation
Preamble
Part 1 – Preliminary
Part 2 – Native Title
Part 3 – Applications
Part 4 – Determinations of the Federal Court
Part 5 – Native Title Registrar
Part 6 – National Native Title Tribunal
Part 7 – Register of Native Title Claims
Part 8 – National Native Title Register
Part 8A – Register of Indigenous Land Use Agreements
Part 9 – Financial Assistance to States and Territories
Part 11 – Representative Aboriginal/Torres Strait Islander bodies
Part 12A – State/Territory bodies
Part 13 – Miscellaneous
Part 15 – Definitions
Schedule 1 – Scheduled interests
Appendix 1 – Transitional Provisions, Native Title Amendment Act 1998,
Schedule 5
Index
*
eBooks and packages including an eBook may not be returned once the software key has been supplied. Your rights as a customer to access and use the ProView™ software and a ProView eBook are subject to acceptance of the ProView content licence agreement.
NB
An email with a registration key and instructions for accessing your eBook will be sent after checkout. For existing ProView users the eBook will appear in your library after checkout.

Forthcoming/pre-order eBooks will be available after the publication date.

The ProView app is not currently available on Kindle. See the latest system requirements