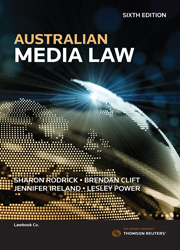 Australian Media Law 6th Edition
Book

Date: 17/08/2021

Code: 9780455243023

Lawbook Co., AUSTRALIA

Australian Media Law 6th Edition
Description
Australian Media Law details and explains the complex case law, legislation and regulations governing media practice in areas as diverse as journalism, advertising, multimedia and broadcasting. It examines the issues affecting traditional forms of media such as television, radio, film and newspapers and includes discussion on modern forms such as the internet, social media and digital technology, in a clear and accessible format.

Issues and topics that are new to the sixth edition include:
Impending amendments to the uniform defamation legislation
Responses to the phenomenon of fake news
Revised foreign ownership regime
Proposed new online safety legislation
A new AANA Code of Ethics
The telecommunications data regime and its impact on journalists and their sources
An examination of recent decisions on free speech, defamation, confidentiality, negligence, advertising, vilification and contempt.
The ACCC's Digital Platform Inquiry has recommended a process to implement a harmonised media regulatory framework. As the Australian Government takes its first steps along this path, the sixth edition anticipates the shape of future reforms.
Table of Contents
Chapter 1 Introduction
Chapter 2 Free Speech
Chapter 3 Defamation
Chapter 4 Reporting Parliament and Elections
Chapter 5 Media and Open Justice
Chapter 6 Contempt of Court
Chapter 7 Confidentiality and Sources of Information
Chapter 8 Privacy
Chapter 9 Offensive Publications
Chapter 10 Media and National Security
Chapter 11 Negligence
Chapter 12 Copyright
Chapter 13 Advertising
Chapter 14 Regulation of the Media
Chapter 15 Media Ownership and Control