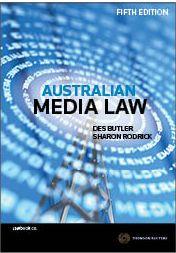 Australian Media Law 5e book + eBook
Book+eBook

Date: 15/07/2015

Code: 41759053

Lawbook Co., AUSTRALIA

Australian Media Law 5e book + eBook
Description
Australian Media Law details and explains the complex case law, legislation and regulations governing media practice in areas as diverse as journalism, advertising, multimedia and broadcasting. It examines the issues affecting traditional forms of media such as television, radio, film and newspapers as well as for recent forms such as the internet, online forums and digital technology, in a clear and accessible format.

New additions to the fifth edition include:
the implications of new anti-terrorism legislation for journalists;
developments in privacy law, including Law Reform recommendations for a statutory cause of action to protect personal privacy in Australia and the expanding privacy jurisprudence in the United Kingdom and New Zealand;
liability for defamation of internet search engines and service providers;
the High Court decision in Roadshow v iiNet and the position of internet service providers in relation to copyright infringement via their services;
new suppression order regimes;
statutory reforms providing journalists with a rebuttable presumption of non-disclosure when called upon to reveal their sources in a court of law;
recent developments regarding whether journalists can use electronic devices to collect and disseminate information about court proceedings;
contempt committed by jurors via social media; and
an examination of recent decisions on defamation, confidentiality, vilification, copyright and contempt.
Table of Contents
Chapter 1 Introduction
Chapter 2 Free Speech
Chapter 3 Defamation
Chapter 4 Reporting Parliament and Elections
Chapter 5 Media and Open Justice
Chapter 6 Contempt of Court
Chapter 7 Confidentiality and Sources of Information
Chapter 8 Privacy
Chapter 9 Offensive Publications
Chapter 10 Media and National Security
Chapter 11 Negligence
Chapter 12 Copyright
Chapter 13 Advertising
Chapter 14 Regulation of the Media
Chapter 15 Media Ownership and Control
*
eBooks and packages including an eBook may not be returned once the software key has been supplied. Your rights as a customer to access and use the ProView™ software and a ProView eBook are subject to acceptance of the ProView content licence agreement.
NB
An email with a registration key and instructions for accessing your eBook will be sent after checkout. For existing ProView users the eBook will appear in your library after checkout.

Forthcoming/pre-order eBooks will be available after the publication date.

The ProView app is not currently available on Kindle. See the latest system requirements