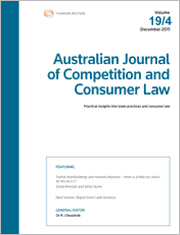 Australian Journal of Competition and Consumer Law: Parts
Journal

Date: 05/09/2012

Code: 30117362

Lawbook Co., AUSTRALIA

Enquiry Sent

A member of our support team will be in touch with you within 1 business day.

Sales Enquiry Form

Australian Journal of Competition and Consumer Law: Parts

For questions about how to use this product or to get help with your account please visit the Help Centre or Contact Support directly.
Description
Practical Insights into trade practices and consumer law

The Australian Journal of Competition and Consumer Law (formerly the Trade Practices Law Journal) provides an exceptional arena for the exchange of ideas and information on topical issues of trade practices law and practice. Insightful articles, editorials and case notes, succinct reports discussing and analysing legislative and judicial developments, as well as commentaries pertaining to the Australian Competition and Consumer Commission, the Australian Competition Tribunal and the National Competition Council, are some of the inclusions that make this innovative journal unique. While concentrating on Australian law, the journal also contains an international perspective through the inclusion of overseas reports.

Written with an overall practical focus, the Journal is an impressive publication which practitioners in this area of the law can not afford to be without.

Online, the Journal features the full backset to Volume 1, 1993, with links to judgments and other online publications, while allowing for individual articles to be downloaded in pdf format or received via RSS feed.

There are approximately four Parts published each year.

To access articles and information on all of our journals, to submit an article or to join our community and have your say, visit Journals Talk at http://sites.thomsonreuters.com.au/journals/.
* Price is for an annual subscription and includes approx 4 Parts per year. Does not include Backset which is available separately at an additional price.